8 Badass Actors Who Would Be Perfect To Join The John Wick Cast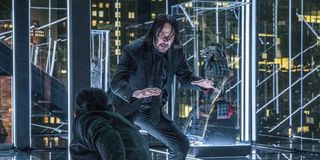 CinemaBlend is partnering with Tidal to bring you fresh content to stay in and stream with each day. We're also offering a free 30 day trial. You can sign up for the package with Tidal here.
In three films released in the last six years, the John Wick franchise has done a brilliant job hiring real badasses to star opposite Keanu Reeves in key supporting roles. The likes of Adrienne Palicki and Willem Dafoe were in on the ground floor starring in the first movie, but since then we've seen actors like Ruby Rose, Common, Franco Nero, Laurence Fishburne, Cecep Arif Rahman, Yayan Ruhian, and Halle Berry tear up the screen in the sequels. As fans, we can't help but wonder how the movies will continue that trend in future titles, and who they will cast next… so we decided to craft what one might call a wish list.
As of now it's unclear how long the John Wick franchise will last, but assuming that it will continue ad infinitum, we definitely have some ideas about who director Chad Stahelski should bring on-board – with a particular focus on actors who have the capacity to realistically participate in the ridiculous trademark action sequences.
Uma Thurman
Can anyone explain why Uma Thurman hasn't done a lot more action movies? Her role as Beatrix Kiddo a.k.a. The Bride in Quentin Tarantino's Kill Bill is iconic because of the amount of ass she kicks, and yet she has not played the lead in a serious action feature since then (and that was 16 years ago). Having her take on a significant role in the future of the John Wick franchise would make for a dream pairing, and would be a great opportunity to put a sword back in her hands. Plus, the series could go a step further and also cast Thurman's Kill Bill stunt double, Zoe Bell, alongside her – perhaps even as a sister.
Gina Carano
From Haywire, to Fast & Furious 6, to Deadpool, to The Mandalorian, Gina Carano has consistently demonstrated herself as a consummate badass on-screen, with her background as a professional MMA fighter lending a special authenticity to all of her roles. This is the same authenticity that is deeply embedded in the atmosphere of the John Wick movies, and thus the actor makes for an excellent match for the content. When given proper material she can deliver a great performance, and it's consistently fun to see her just tear through opponents. She could be a powerful ally, or the titular hero's worst nightmare, but either way Carano should be a part of this series.
Iko Uwais
I would give you full permission to dismiss this list as invalid if it didn't include Iko Uwais, so consider this me saving you the need to leave a negative post in the comments section. For those who don't immediate recognize the name, Uwais is the star of the two movies in The Raid duology (which is one of the most bone-crunchingly incredible pieces of modern action cinema), and has seen his profile grow recently with roles in Star Wars: The Force Awakens, Stuber, and the upcoming Snake Eyes. Frankly, the only reason I can fathom that the Indonesian star isn't already a part of the franchise is because Chad Stahelski has been saving him for some kind of grand finale. And, of course, if the series were to bring Uwais on board, it would also be amazing to see…
Joe Taslim
Those who have seen The Raid will recognize Joe Taslim as one of the main villains in the film opposite Iko Uwais – but their awesome on screen chemistry has continued in the years since then as well with their protagonist/antagonist roles changed in the blistering The Night Comes For Us. Taslim has also been gaining a lot of exposure in Hollywood movies, like Star Trek Beyond, Fast & Furious 6, and the upcoming Mortal Kombat, and it feels like it's only a matter of time before he is brought into the John Wick universe. It's insanely fun to watch him do his thing, and we want to see it opposite Keanu Reeves.
Naomi Watts
Known for making dramas like Mulholland Drive, The Impossible, and Birdman, Naomi Watts may not be the first actor you think of when contemplating potential additions to an action franchise like the John Wick movies, but that simply demonstrates a gap in your knowledge about her. While she hasn't had many opportunities to show off her skills on film, Watts has trained in martial arts for years, participating in Judo contests in the late 1980s/early 1990s, and more recently learning Brazilian Jiu-Jitsu. To see that background translated on screen with her acting opposite Keanu Reeves sounds like a recipe for surprise and awesomeness.
Tony Jaa
With the exception of small roles in Furious 7 and xXx: Return Of Xander Cage, Tony Jaa doesn't have a great deal of experience working in English-language films, but from a physical perspective he most definitely has what it takes to function well in a John Wick movie. In his native Thailand he has been working in film since the early 1990s, and is best known for whipping all kinds of ass playing the hero in the Ong Bak trilogy. He'll soon be getting more exposure in America via the release of the upcoming Monster Hunter, and perhaps that will wind up being his springboard into the Keanu Reeves-led series.
Michael Jai White
From Spawn, to Black Dynamite, to Arrow, Michael Jai White's physical prowess has long been a key part of what he brings to the table as an actor, and his background explains why. While he has a particular focus in Kyrokushin Karate, he practices eight different styles of martial arts. He is exactly the kind of performer you expect to see in a John Wick movie if not simply because action fans actively talk about showdowns like Michael Jai White vs. Keanu Reeves. He'd be an excellent fit for the future of the series.
Forest Whitaker
There probably isn't a ton of crossover on the Venn diagram of "Best Actor Oscar Winners" and "Black Belts," but Forest Whitaker actually exists in both categories. He's never been a big action guy on the silver screen, but he is expertly trained in Kenpo Karate (a form originating in America), and is also experienced in Escrima (a weapons-based martial art created in the Philippines). Whitaker has had significant dramatic roles in recent blockbusters like Black Panther and Rogue One: A Star Wars Story, but it would be great to see him exercise his fighting talents in future John Wick chapters.
What actors would you like to see join the John Wick franchise at some point in the future? Hit the comments section with your thoughts, feelings, and opinions, and stay tuned here on CinemaBlend for updates about future movies in the series.
Your Daily Blend of Entertainment News
Assistant Managing Editor
NJ native who calls LA home and lives in a Dreamatorium. A decade-plus CinemaBlend veteran who is endlessly enthusiastic about the career he's dreamt of since seventh grade.