Star Trek 3 Is Adding A Fast & Furious Badass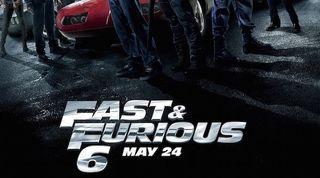 Star Trek 3, which is now known as Star Trek Beyond, recently started production with a couple of notable additions to the cast. But it's never too late to invite more people to the party, and in that spirit, they added a total martial arts badass to the call sheet in the form of Joe Taslim.
According to The Hollywood Reporter, the Indonesian actor, who practices Silat, Judo, and a variety of other martial arts, has joined the deep space mission of Star Trek Beyond, which is currently filming in Vancouver, BC, Canada.
Taslim first came to worldwide acclaim with Gareth Evans' The Raid, later retitled The Raid: Redemption, punched and kicked its way to global renown, with the actor playing one of a crew of cops who invade a gangster's high-rise stronghold and have to fight their way to the top. However, he's probably most widely recognized for his role in Fast & Furious 6, for Beyond helmer Justin Lin. He plays a member of Luke Evans' crew of evildoers and you may recall the particularly memorable scene where he dismantles Roman (Tyrese Gibson) and Han (Sung Kang) in a subway station; he just beats the living hell out of them.
He joins fellow Star Trek newcomers Idris Elba and Sofia Boutella, and much like his compatriots, there is currently little or nothing to know about his role. Elba is reportedly the main villain in the film, and according to the THR story, Taslim plays "a key part opposite Elba." What exactly that means remains to be seen, but fingers crossed that we get to see him use some of his badass fighting skills on the bridge of the Enterprise, because I can get down with that.
As far as Boutella, who is most recognized for her role in Kingsman: The Secret Service earlier this year—she was the one with the blades for feet—there have been a couple key female roles rumored, and it is possible she fills one of them. One is as Bones' (Karl Urban) ex-wife, while another is the President of the United Federation of Planets. The most interesting potential role, however, is that of a rival Starfleet ship captain, one who gives Kirk (Chris Pine) a run for his money. If she has one of these roles, that last one would be my guess, and there will probably be some romantic sparks flying between the two captains.
What we know of the story involves the crew of the Enterprise in the middle of their five-year mission to explore new worlds and meet new alien cultures, which will be a nice change from the Earth-centric plots of the last two movies. It also opens the door for a number potential encounters with other races—many people expect the Klingons to play a bigger role—and that is also something we're looking forward to.
Directed by Justin Lin, and written by Simon Pegg and Doug Jung, Star Trek Beyond hits theaters July 8, 2016.
Your Daily Blend of Entertainment News
Thank you for signing up to CinemaBlend. You will receive a verification email shortly.
There was a problem. Please refresh the page and try again.