Trolls 2 Voice Cast: Who's Voicing The World Tour Characters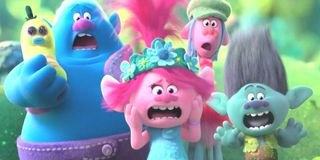 Trying to keep your kids entertained while stuck at home just became a lot easier now that DreamWorks Animation has released Trolls 2: Trolls World Tour as a digital rental the same day that it was supposed to hit theaters. Back in all that good animated and musical goodness is a voice cast including Anna Kendrick, Justin Timberlake, James Corden, and more actors and musicians than any reasonable parent can keep up with.
For the sake of my own sanity, I've put together a list of the Trolls 2: Trolls World Tour voice cast and why their voices probably sound familiar to you. And before you ask, yes, that is Ozzy Osbourne, and yes that is Mr. Christian Grey himself as the oddly adorable Chaz, the Smooth Jazz Troll. So get out your favorite Troll doll and buckle in because we're going on the wild ride that is the Trolls World Tour character (and voice actor) list.
Anna Kendrick - Queen Poppy
Queen Poppy is the main protagonist is both Trolls and Trolls World Tour, in which the fearless leader of the Pop Trolls who sets out unite all the different Trolls tribes that exist outside her own. Poppy is voiced by Anna Kendrick who is best known for her work in the Pitch Perfect and Twilight franchises.
Justin Timberlake - Branch
Unlike his love interest, Queen Poppy, Branch is a cautious and more grounded Pop Troll who spent much of his life mastering different survival skills before embracing song and dance with the Trolls. The character is brought to life by the singer/dancer/actor/everything Justin Timberlake, who requires no further introduction.
James Corden - Biggie
With a heart as large as his stature, Biggie is a tall and round blue Pop Troll who joins Poppy and Branch on their different adventures. Voiced by everyone's favorite carpool karaoke enthusiast James Corden, this lovable character is nothing but bounds and bounds of fun and joy.
Kevin Michael Richardson - Mr. Dinkles
You couldn't have Biggie without his best friend Mr. Dinkles, a small worm who uses a squeaky "mew" sound to communicate instead of using words. Mr. Dinkles is voiced by acclaimed voice actor Kevin Michael Richardson, whose list of credits includes shows like Samurai Jack, The Batman, and Rick And Morty to name just three of his scores of roles.
Kunal Nayyar - Guy Diamond
Guy Diamond is the glittery silver Pop Troll we all came to know and love in Trolls. The so-called "Life Of The Party," Guy Diamond has an auto-tuned voice and is full of himself more than any other troll. He is voiced by Kunal Nayyar, who you might remember as Raj Koothrappali on The Big Bang Theory.
Keenan Thompson - Tiny Diamond
The son, or at least tiny version of Guy Diamond, Tiny Diamond is a small, silver and glittery Pop Troll with a deep voice and moves like none other. He is brought alive by Keenan Thompson, who you might remember as the longest-running cast member of Saturday Night Live.
Rachel Bloom - Queen Barb
Queen Barb is the main antagonist in Trolls World Tour. The leader of the Rock Trolls, Barb sets out to capture the five strings and destroy all other forms of music played by the other troll tribes. Queen Barb is voiced by Rachel Bloom, who is best known for co-creating and starring in the CW series Crazy Ex-Girlfriend.
Sam Rockwell - Hickory
Hickory is a Yodeling Troll who is best known for his laid-back personality and obsession of country music. Oh, and he's also a bounty hunter. Hickory is voiced by Academy Award-winning actor Sam Rockwell, who you might remember from Three Billboards Outside Ebbing, Missouri, The Hitchhiker's Guide To The Galaxy, and Iron Man 2.
Jamie Dornan - Chaz
With all the different trolls being introduced in Trolls World Tour, it should come as no surprise there would be a Smooth Jazz Troll by the name of Chaz. Part musician and part bounty hunter, Chaz is a character no one will be forgetting for a long time. This could be thanks to the fact that he's voiced by Jamie Dornan, aka Christian Grey.
Icona Pop - Satin And Chenille
Satin and Chenille are conjoined twins connected by their blue and pink hair. Like any good set of twins in an animated movie, Satin and Chenille can't seem to agree on anything. The twins are voiced by Icona Pop (Aino Jawo and Caroline Hjelt).
George Clinton - King Quincy
Along with Queen Essence, King Quincy rules over the Funk Trolls. King Quincy is brought to life by the living legend of funk music himself, George Clinton.
Mary J. Blige - Queen Essence
Just like her husband, King Quincy, Queen Essence is the leader of the tribe of Funk Trolls in Trolls World Tour. This funky troll is voiced by Mary J. Blige, who also provides sweet vocals for the leader of the Funk Trolls.
Ozzy Osbourne - King Thrash
King Thrash inadvertently gets everything going in Trolls World Tour when he gives his daughter, Queen Barb the idea of collecting the other five strings. This character is voiced by the Prince of Darkness, Ozzy Osbourne.
Anderson Paak - Prince D
The son of King Quincy and Queen Essence, Prince D is one of the most accepting characters in Trolls World Tour and is very encouraging to just about everyone, including his twin brother, Cooper. Prince D is voiced by award-winning musician Anderson Paak.
Ron Funches - Cooper
Cooper is the fun-loving fuzzy son of King Quincy and Queen Essence that looks more like a giraffe than anything else. With a long neck and four legs, Cooper is definitely one of the strangest member of the Trolls cast appearing for the sequel. Voiced by Ron Funches, who you might remember the television series Undateable.
Kelly Clarkson - Delta Dawn
Delta Dawn is the leader of the Country Trolls who seems nice at first, but turns out to be anything but. She is voiced by Kelly Clarkson.
Red Velvet - K-Pop Gang
The K-Pop gang are a group of female K-Pop Trolls who are nearly identical save for their hair and outfits. They are based off and voiced by the Korean pop group Red Velvet.
Anthony Ramos - King Trollex
King Trollex is the leader of the Techno Trolls and looks like something out of a pixilated rave than he does a traditional troll. This high-energy neon troll is voiced by singer and actor Anthony Ramos, who you might remember from his brief appearance in A Star Is Born.
The McElroy Brothers - Skyscraper
Skyscraper is rather unique Pop Troll that has four heads that talk in unison. They are voiced by the McElroy Brothers.
Those are just some of the trolls you'll get to know and love inTrolls 2: Trolls World Tour. Did we forget your favorite troll? Sound off in the comments below.
Your Daily Blend of Entertainment News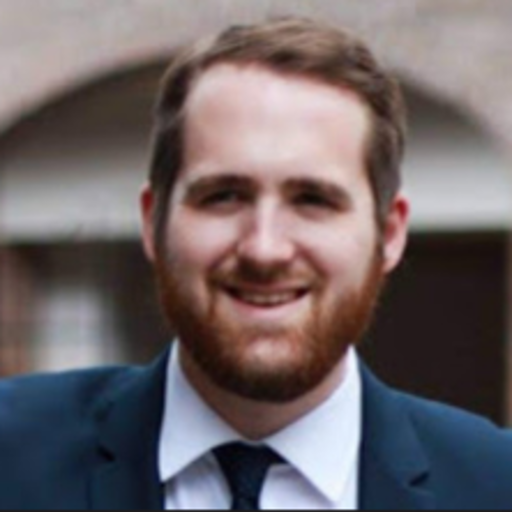 Philip grew up in Louisiana (not New Orleans) before moving to St. Louis after graduating from Louisiana State University-Shreveport. When he's not writing about movies or television, Philip can be found being chased by his three kids, telling his dogs to stop barking at the mailman, or yelling about professional wrestling to his wife. If the stars properly align, he will talk about For Love Of The Game being the best baseball movie of all time.