7 Monsters Inc. Things To Remember While We Wait For Disney+'s Monsters At Work To Premiere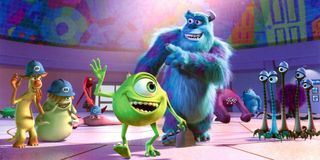 Next year, Pixar lovers will have an opportunity to return to the world of Monstropolis when Monsters At Work, the sequel series to Monsters Inc, hits Disney+ in the spring of 2021. Details are limited regarding the animated streaming series, but it'll reunite us with the world of monsters just six months after the events of the original. More specifically, the show follows an ambitious mechanic (Ben Feldman) who dreams of working with his idols, Mike Wazowski (Billy Crystal) and James P. "Sulley" Sullivan (John Goodman). Before Monsters At Work debuts, here are seven things you should remember about Monsters Inc. and its college-aged prequel, Monsters University. Also, you should expect some major spoilers for both movies moving forward.
Mike And Sulley Are Life-Long Friends (But Rivals In College)
When we're first introduced to Mike Wazowski and James P. "Sulley" Sullivan, they're close friends and great work buddies. They live in the same apartment and their work partnership has resulted in the pair being the most effective scarers in the scream-fueled company. Even when their friendship gets tested during the course of Monsters Inc., they still remain by each other's side and help one another in saving Boo and bringing down the villainous Randall, voiced by Steve Buscemi (and, subsequently, Mr. Waternoose). But while Monsters Inc. suggests that these two buds have been friends since the fourth grade, 2013's prequel, Monsters University, sidesteps that line by showing us how these two got to know each other in college, and they were rivals before they earned each other's trust. Sure enough, even during rough patches, Mike and Sulley stuck together.
Once In The Scaring Business, The Monsters Now Use Laughs
Over the course of their adventure together, Mike, Sulley and Boo realize that making kids scream isn't nearly as effective as making them laugh, which produces far more raw power. As a result, when Mr. Waternoose is arrested and the factory is quickly shut down, Sulley leads an effort to bring back everyone's jobs and provide more power than ever by making kids laugh in delight instead of scream in terror, producing a more efficient power stream for Monstropolis citizens. While Mike was Sulley's number two man when it came to scaring, Mike proves to be one of the frontmen in the company's new efforts as he's one of the best monster comedians in the company. That'll come up when Monsters At Work explores the new side of the business.
Sulley Is Now The CEO Of Monster's Inc.
While Sulley was once the top scarer at Monsters Inc., his focus shifted. Since Mr. Waternoose was ousted from the company due to criminal behavior, a monster needed to step up and take over CEO duties. That monster became Sulley. As the company pivoted to a new focus, which would make kids laugh instead of scream, he started wearing ties and keeping an eye on the day-to-day management of the company, and Sulley fits the new role well.
Mike And Sulley Made Their Way Into Monsters Inc. Through The Mailroom
The biggest surprise that occurs in Monsters University is that Mike and Sulley didn't actually graduate from college. They were both expelled during an incident that occurred in the movie's climax, and they needed to figure out the next phase of their lives. As it turns out, Monsters Inc. was hiring in the mailroom, so the monsters apply for the job and get hired in the company. Eventually, they rise up the ranks and find themselves in their top roles in the company. They took an unconventional route, to be sure. But, in the process, Mike and Sulley strengthened their friendship and became close friends.
Mike Rebuild Boo's Door For Sulley
While Mike and Sulley saved the company and the city of Monstropolis at large by pivoting from scaring kids to making them laugh, thus gaining more sustainable energy, and Sulley became the CEO of Monsters Inc.'s second phase, he's still unhappy. While more successful in his professional life than ever, Boo's absence — and his inability to ever see her again — leaves him with an aching loss. That is, until Mike does his friend an enormous favor. While the door to Boo's room was shredded, Mike took the painstaking effort to rebuild it — and he has the splinters to prove it — and he's only missing one piece, which is the one Sulley kept to remember Boo. Once that piece is in place, Boo's door opens, and we're left with the shot of Sulley smiling as he sees Boo once more.
Mr. Waternoose Was Arrested And Randall Was Caught In The Human World
If you're looking for Mr. Waternoose or Randall in Monsters At Work, there's a good chance that neither of them will show up. Towards the end of Monsters Inc., Randall was trapped in the human world by Mike and Sulley after Randall attempted to murder the latter. The monsters threw him in a trailer park, where he was mistaken for a mutated alligator, and they destroyed the door to make sure he wouldn't return. It's possible Randall will find his way into the monster world once more, but Steve Buscemi isn't currently listed on the voice cast for the Disney+ show. Meanwhile, Mr. Waternoose was in cahoots with Randall on a dangerous new method of extracting scares, but he was caught on tape saying damning things and arrested, thus limiting the likability that he'll show up either.
Mike And Celia Have A Very Loving Relationship Together
While Mike is in an intimate bromance with his best friend Sulley, the company's top scarer hasn't stolen the one-eyed monster's heart. That would be Celia, the similarly one-eyed secretary with Medusa-like snakes for hair voiced by Jennifer Tilly. The couple have been dating for quite some time, and Mike wants to settle down with Celia soon. Of course, as the events of Monsters Inc. unfold, their relationship is put to the test, but things will have settled down (hopefully) when Monsters At Work reunites us with these characters a few months later. It's unclear what role Celia will play in the series, but there's a good chance she'll have an active part. In addition to John Goodman and Billy Crystal reprising their roles, Tilly will also return to voice Celia.
Are you looking forward to watching Monsters at Work on Disney+? Let us know in the comment section below!
Your Daily Blend of Entertainment News
Will is an entertainment writer based in Pittsburgh, PA. His writing can also be found in The Playlist, Cut Print Film, We Got This Covered, The Young Folks, Slate and other outlets. He also co-hosts the weekly film/TV podcast Cinemaholics with Jon Negroni and he likes to think he's a professional Garfield enthusiast.