This Pixar Tribute To Friendship Delivers Every Single One Of The Feels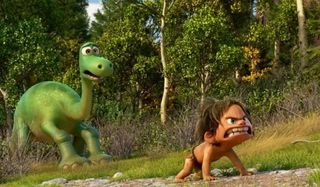 Pixar movies have a well known reputation for bringing everyone's emotions right to the surface. Now, the company has decided to celebrate their twentieth anniversary of releasing heart tugging classics by tying it into their newest release, The Good Dinosaur, and this new video shows us that we always have a friend.
This video comes straight from Pixar, and it's nice, right? The music swells as we see clips from some of the animation studio's greatest hits. The memories start to float to the top of your brain as you recall your favorites films and the moving scenes within...Sorry, I'm getting teary eyed just thinking about it. And, uh, it's hard to type when you're crying. All the animated feels are…overwhelming.
When it comes to animated films it's hard to beat Pixar. It's fair to say that they helped revolutionize the animated movie, and turn it into a genre that cartoon-loving adults are no longer ashamed to admit they love. How can you beat a company that makes every film about going the distance for your best buddy, however unlikely a friend they may be? Every film has its proponents, and most of the movies have very little in the way of detractors. Even Ratatouille and Bolt, which frequently get lost in the general public's memory, have respective ratings of 96% and 89% on Rotten Tomatoes.
Animated films have come a long way in the decades since film companies started making them. Even so, Disney has always been the taste maker in this field, which is easy to understand, since cartoon movies and films for kids are their specialty. When Disney joined with Pixar, a CGI production company, the films they went on to create became instant, memorable classics that provide people with an emotional release they didn't know they needed.
The Good Dinosaur is Pixar's sixteenth film, and the second to be released in 2015, along with Inside Out, which marks the first time the company has ever had a double release in one year. From the look at the film in the above video, it's destined to have moments of cute giggles, uproarious laughter, and also bring out the tears. I mean, really, if you don't cry at least once during a Pixar movie you're dead inside. Or, at the very least, you have little hope of ever being a complete human being.
Pixar always provides a good example of why animation lovers can't get enough of cartoons. It's easier to talk about the similarities between people in animation. There's something about watching animated characters of whatever race (or species) deal with life and friendship that makes it so much simpler to think about the lives of the people around us and their motivations in doing the right or wrong thing. You can hardly get mad at a toy for loving his little boy, a rat for befriending a chef, an emotion for trying to steer her human in the right direction, or a monster who breaks a few rules and bonds with an adorable little girl.
It's entirely possible that The Good Dinosaur will spell the end of Pixar's reign on animation films, but it's also an idea I wouldn't place any bets on. After 20 years, Pixar is here for the long haul. Lucky us.
The Good Dinosaur opens on November 25.
Yennefer's apprentice, Gilmore Girl; will Vulcan nerve pinch pretty much anyone if prompted with cheese...Yes, even Jamie Fraser.
Your Daily Blend of Entertainment News
Thank you for signing up to CinemaBlend. You will receive a verification email shortly.
There was a problem. Please refresh the page and try again.