Why Suicide Squad Director David Ayer Says Harley Quinn's Story Arc Was 'Eviscerated'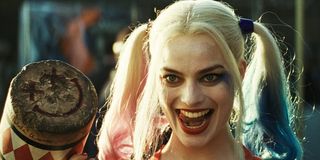 David Ayer has never been shy in sharing his true feelings about Suicide Squad. The movie's director has actually been one of its most vocal critics, especially when it comes to how some of its plot points played out. His latest point of contention is Harley Quinn's story arc, which he says the studio basically eviscerated.
During a recent Twitter Q&A, one fan asked if Gotham City Sirens was still in the works, which sparked a bit of a debate as to who should direct that film. When one user argued that a woman should direct the film because they felt that Suicide Squad totally botched the portrayal of Harley Quinn, David Ayer weighed in:
His feelings about Harley Quinn echo much of the criticism that arose surrounding Suicide Squad when it first hit theaters in 2016. It also once again reminds fans that David Ayer was just as unhappy with Suicide Squad as many other were. He's been very clear that the movie was not how he envisioned it, due to extensive reshoots and edits that were out of his control. Last year, he strongly hinted that his version of the film was centered on Harley Quinn and her escape from her abusive relationship with the Joker.
Despite the backlash to Suicide Squad's portrayal of Harley Quinn, Margot Robbie's performance was a huge hit, which led Warner Bros. to greenlight a solo film for her. Birds of Prey definitely helped Harley Quinn rewrite her narrative and served as a much more empowering film that gave the character her due. At this point, given everything he's told us up until now, it seems like Harley Quinn's story arc in Birds of Prey is much closer to what he originally imagined for her.
David Ayer has been more than happy to engage fans on Twitter in conversations about Suicide Squad and its fallout in the years since it was released. He routinely answers fans' questions about his original intention for the movie and has also weighed in on the future of the franchise. He's even thrown his support behind James Gunn's The Suicide Squad. That goes to show that even if he has some sour grapes about how his own project went down, he can set those aside -- and that's definitely admirable.
Fans who might be disappointed that David Ayer won't let loose in a live Suicide Squad commentary can take heart. He's left plenty of hints on social media about his misgivings beyond Harley Quinn's storyline, and it's pretty likely that he'll weigh in again in the future if he sees something that strikes a chord on social media.
Fans of Harley Quinn will be able to see her join forces with Task Force X once again when The Suicide Squad hits theaters on August 6, 2021.
Your Daily Blend of Entertainment News