10 Things You Probably Didn't Know About Harley Quinn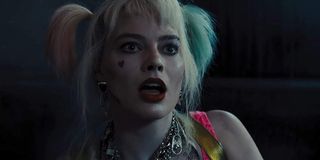 (Image credit: (Warner Bros))
After stealing the show in Suicide Squad back in 2016, Margot Robbie is back as Harley Quinn in Cathy Yan's Birds of Prey. But this time, the quirky and villainous DC character is taking center stage in her own adventure alongside a squad of female badasses. Harley's relationship with Jared Leto's Joker is no more. She'll find her "emancipation" from the Clown Prince of Crime and come into her own.
As Margot Robbie's iconic role returns to the big screen this weekend, it's time to get to know the infamous Harley Quinn a little bit better. The bat-swinging, pigtailed character is an incredibly interesting part of the DC universe. Harley has shared storylines with a number of awesome heroes and had her share of crazed antics throughout her 28 years of existence. Did you know these things about Harley Quinn?
Harley Quinn Was Inspired By A Daytime Soap Opera
Unlike many of Harley's scene partners, her character was actually born for Batman: The Animated Series back in 1992. When one of the show's creators Paul Dini was developing the character, he was watching an episode of daytime soap opera, Days of Our Lives. He watched an episode where Arleen Sorkin's Calliope Jones Bradford is in a dream sequence dressed as a court jester. Thus, Harley was born.
Dini decided to draw his inspiration from this sequence for Harley Quinn, not only implementing her personality in the role but asking Arleen Sorkin to voice the character itself. The soap opera actress since played Quinn on and off for almost 20 years before retiring in 2011. Harley Quinn was only supposed to be a brief addition to the Batman: The Animated Series cast but she became a fan favorite.
Dog? Cats? No, Harley Quinn Is A Hyena Gal
Birds of Prey certainly has teased Harley Quinn finding companionship in a hyena named Bruce in the trailers. This isn't a foreign storyline to comic book fans. She's a notorious animal lover and hyenas are her choice breed of pet. It begins when Joker owns a pair of them named Bud and Lou. Except he doesn't really care for them. They are his guard and attack "dogs".
Enter Harley Quinn. When she meets them, they are her "babies" and she gives them a lot of love and affection. When Quinn and Joker break things off, she takes on custody of the hyenas. As she should – one time Joker gives them rabies on purpose! How cruel.
Harley's Time In College Has A Huge Influence On Her Iconic Identity
Contrary to Harley Quinn's sometimes ditz behavior, she's an incredibly intelligent character. Interestingly enough, her early skill in gymnastics lands her a scholarship at Gotham State University. Due to her adoration for animals, she originally wanted to major in Veterinary and Biological Sciences, but ultimately decided on Psychiatry. She earned a PhD in her field and it would someday lead her to Joker.
Of course she meets Joker in Arkham Asylum during a series of interviews. But prior to this, Harley was regarded to have a genius-level IQ at her university and she actually wrote a graduate thesis on people who "disregard the rules of society". Her hypothesis was it was either because they commit a crime or they're in love. Ironically enough, her own character would later prove this theory in a way.
Harley Quinn Actually Has Superpowers
Gotham is often thought of as a more grounded comic book world. Its central hero (Batman of course) doesn't have superhuman powers and not all of the villains he comes in contact do either. Usually this includes Harley Quinn. But, with the 2011 relaunch of DC Comics known as "The New 52", Harley was given powers.
Poison Ivy gives Harley a curious serum that gives her immunity to toxins, such as Ivy's own poison manipulations and Joker's Venom. Additionally, Harley has added strength, speed and an ability to heal that certainly ups her power as a character in the DC Universe. However, Margot Robbie's Harley Quinn doesn't currently have these features.
Harley Quinn Is Wonder Woman's Biggest Fan
The two badass characters leading the pack of 2020 releases for Warner Bros are both Harley Quinn and Gal Gadot's Wonder Woman. And as it turns out, the pair have a really interesting history in the comic books. Harley Quinn loves Wonder Woman to a fangirl level. She devotes a shrine to her in her place… and can we blame her?
One time she comes to her home dressed as a flower deliverer before gassing the place. This leaves Wonder Woman unconscious and Harley totally tries on Diana's costume during that time. In a 2007 issue, it's also revealed that Harley lived among the Amazonians at one point too. She trains with them – that is until she slips back into her "Harley" ways.
Harley Was In A Folk Duo With Poison Ivy
Another notable relationship in Harley Quinn's life is Poison Ivy. The character was set to star with Margot Robbie in Gotham City Sirens, but the actress/producer decided to go with Birds of Prey first. Harley meets Ivy back during the '90s animated series and they've since become best friends and girlfriends. Opposed to her iconic relationship with Joker, her affair with Ivy creates a much healthier dynamic. Even if Harley keeps crawling back to her puddin'.
In the 1999's Elseworlds storyline, Harley Quinn and Ivy are reimagined as the duo of a folk music act with Lex Luthor serving as their label producer. However one journalist tries to dig up some dirt on Lex's music label. Can you imagine? A DC musical? Hey, anything can happen!
Harley Quinn Rolled With Lantern Corps Too
DC fans are already awaiting another big screen Green Lantern (including an announced series coming to HBO Max), now you can await a possible team-up with Hal Jordan and Harley Quinn. That's right, Harley even found herself in this Justice League hero's world when she gets her hands on a Power Ring. It happens in a comic called "Red and Black is the New Green".
This makes Harley more destructive and full of rage. It's a real problem. It's a fun way for the world to collide between her and Hal Jordan, who has to dodge her constant flirting and attacks. Maybe, the two team up on the big screen too?
One Time Harley Stole Joker's Face
It's well-known that Harley and Joker have an intense and crazy relationship that are just about the opposite of "couple goals". But, did you know one time she decided to steal Joker's literal face? Yep. After finding out the front of his face is sitting in evidence at Gotham City Police, Harley decides to retrieve it.
The Suicide Squad attempts to stops Harley Quinn, but she does it anyway. When Deadshot gets in her way, she knocks him out. When he wakes up, Joker's face is placed on top of his like a mask and she's trying to have a conversation with him like he's Joker. Oh. So. Very. Strange. Harley can certainly get weird.
Harley Quinn's Closest Confidant Is A Dead Beaver
Another strange fact about Harley Quinn has to do with a taxidermy Beaver. After a breakup with a fellow named Bernie Bash, Harley nabs the dead Beaver as a keepsake and names him after him. Her ex-boyfriend is incarcerated, but Bernie the Beaver becomes a close confidante to Harley that she frequently talks to. You know, when she's not with her hyenas…
In the comic books, Bernie responds too – likely as one of the voices in Harley's head. Bernie was actually teased in Birds of Prey too. On the poster for the movie, Bernie can be seen rocking a tutu on Harley's right. Now, the question is if Bernie will have a voice in the movie?
Harley Quinn And Batman Dated Once
And finally, before you see Birds of Prey, did you know Harley and Batman once went on a date in the comics? She actually wins a charity auction event where Bruce Wayne auctions himself off for a night out on the town with the highest bidder. Harley becomes the highest bidder. After she steals a load of money – of course!
The date goes awry when the man she stole from goes after her for his money. Harley rescues Bruce Wayne from him and they resume their date. The couple even share a goodnight kiss before parting ways. Later, Batman shows up to see Harley and pay her a compliment for helping his alter ego (she doesn't know they're the same person). Harley smooches Batman too, but remarks Bruce was the better kisser.
Oh, Harley! The character never ceases to amaze her readers and audience with her fun but twisted antics. Now that you know these fun facts about Harley Quinn, you can go into Birds of Prey with some added knowledge about her origins and comic escapades.
Along with Margot Robbie, Birds of Prey stars Mary Elizabeth Winstead as Huntress, Jurnee Smollett-Bell as Black Canary, Rosie Perez as Renee Montoya, Ella Jay Basco as Cassandra Cain, Ewan McGregor as Black Mask and Chris Messina as Victor Zsasz. It hits theaters on February 7.
YA genre tribute. Horror May Queen. Word webslinger. All her writing should be read in Sarah Connor's Terminator 2 voice over.
Your Daily Blend of Entertainment News
Thank you for signing up to CinemaBlend. You will receive a verification email shortly.
There was a problem. Please refresh the page and try again.