Sounds Like Josh Brolin Can't Wait To Play Cable Again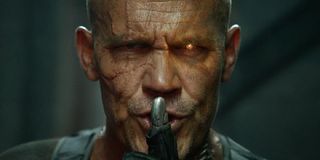 As we all know, Josh Brolin has been busy the past few years in the superhero arena, playing both Thanos and Cable. It's up for debate if these characters will ever return in a live-action Marvel movie, but one thing is for sure: Josh Brolin wants in on playing Cable again.
Recently, Rob Liefeld, one of the creators of the comic character Cable, spoke about Deadpool and how much Josh Brolin loved playing the character on the big screen. Here's what he told Comicbook.com:
This is all very interesting, considering Brolin has said previously that he prefers playing Thanos over Cable. With Cable, he said he didn't feel comfortable playing the character and thought his performance wasn't always the best. Now that his time as a live-action Thanos may be coming to an end following a What If Disney+ reprisal, perhaps he wants that second chance to take Cable up a notch. Plus it's also in his best interest to get more face time on camera. As Rob Liefeld later added, he knows this helps give him more exposure.
With Disney now owning the Deadpool properties, Cable is now technically in the Marvel Cinematic Universe. That puts Brolin in rare company in the MCU, if Disney decides to move forward with Deadpool 3 or the Cable character, of course.
Little is known if a Deadpool 3 movie will be made or if Disney will take the character in an entirely different direction. Deadpool 2 director David Leitch said he doesn't know if Deadpool 3 is happening, but that he would jump at the chance to direct. I think it's safe to say though that fans would be happy to get another Deadpool movie -- with Josh Brolin's Cable included.
With MCU Phase 4 details still in the works, Josh Brolin also doesn't know if he'll return as Cable yet or what's happening with the Deadpool character and this info from Rob Liefeld is obviously secondhand. However, Brolin also hasn't been sitting on the sidelines waiting around. Next, he has Dune coming up.
Though Josh Brolin played Cable as a stone-cold, time traveling killer in Deadpool 2, he says he'd like to play the character differently, moving forward. Rather than being serious all the time, he wants to explore more irreverent humor between himself and Ryan Reynolds, saying it would be a lot more fun.
It's great that he wants back in as Cable, because I personally loved watching Josh Broline play the hard-nosed straight man to Deadpool's silly humor. I think that works better than making Cable less serious. That was the comedic strength of Deadpool 2. Either way, I also hope to see more of his character in the MCU.
Your Daily Blend of Entertainment News