Could Thanos Return To The MCU? Markus And McFeely Weigh In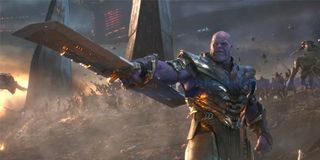 Following six years of build-up, Thanos made quite an impression on Marvel fans when he finally got his time in the spotlight across both Avengers: Infinity War and Avengers: Endgame. Not only is the character simply visually impressive – brought to life with some of the most incredible visual effects ever featured in a blockbuster – but he is also both a compelling psychological foe, and a dangerously violent one.
Now, however, it seems as though his time on the big screen might be done. The Mad Titan was killed not just once, but twice in Avengers: Endgame, and given that the second time was because of the Infinity Stones it doesn't seem like there is a wide-open door for him to return. This may be seen as sad news by a significant segment of the movie-going populace, but in the minds of screenwriters Christopher Markus and Stephen McFeely, it's probably for the best that he doesn't come back.
The subject of Thanos' potential return was one that CinemaBlend's own Sean O'Connell brought up with the filmmakers this week during an interview at San Diego Comic-Con, and while the writing pair can understand why some people might want to see the big bad make a comeback, it's not something they are exactly dying to see happen. Stephen McFeely noted that there are certainly ways that it could be done, particularly because there is an infinite multiverse that exists in canon, but he doesn't love the idea of what that move would potentially mean for the stories that already exist, or the how non-diehard fans may react:
Of course, this is a conflict with which Marvel Studios is super familiar, as there are past examples of characters coming back from the dead in the Marvel Cinematic Universe franchise (in fact, there are many, many, many of them in Avengers: Endgame). Each time it happens, though, it does have an impact on the stakes of the storytelling, as it's hard to feel the full impact of a hero or villains' death in the moment if you're simultaneously aware of the fact that the franchise might eventually bring them back to life.
It's not a card that can be overplayed, so when it comes to Thanos, it may be best to keep him in the dust state in which he currently exists.
All that being said, Stephen McFeely did throw a caveat into the mix – which is the fact that he has unending faith in the mind an maneuvers of Marvel Studios President Kevin Feige. While he is personally unsure if bringing Thanos back would be a good idea, he is also of the mind that if Feige has a way to get it done, it will work. Said the screenwriter,
Christopher Markus added in a good point as well. After noting that you could potentially bring Thanos back in a "very weird esoteric way" given the fact that he is "an existential, philosophical character," he added that the juice may not necessarily be worth the squeeze. After all, the pages of Marvel Comics are filled with hundreds if not thousands of villains who have yet to make their debuts in live-action, and it might just be in Marvel Studios' best interest to explore new avenues rather than resurrecting dead characters just because they are popular. In Markus' own words,
You can watch Christopher Markus and Stephen McFeely discuss the potential return of Thanos, as well as much more about the making of Avengers: Endgame, by clicking play on the full interview below!
Do you think Marvel Studios should bring back Thanos, or would you be more happy to see them go off in new directions in Phase Four and beyond? Answer our poll below, and hit the comments section with your thoughts.
And for those of you dying to see Avengers: Endgame again, the movie is not only still playing in theaters worldwide, but will soon be making its way to the home video market. The 22nd Marvel Cinematic Universe release will be available for digital download on July 30th, and will be released on 4K, Blu-ray, and DVD on August 13th.
This poll is no longer available.
NJ native who calls LA home; lives in a Dreamatorium. A decade-plus CinemaBlend veteran; endlessly enthusiastic about the career he's dreamt of since seventh grade.
Your Daily Blend of Entertainment News
Thank you for signing up to CinemaBlend. You will receive a verification email shortly.
There was a problem. Please refresh the page and try again.