One Us Fan Made Their Own Awesome Tethered Video And Jordan Peele Approves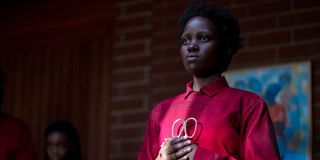 Jordan Peele introduced audiences to some uncertain and downright unsettling concepts in his for two directorial efforts. The Sunken Place from Get Out was one thing, but moviegoers weren't prepared to meet the Tethered in Us. The red-suited, scissor-wielding doppelgangers were terrifying to say the least, but they still managed to become standouts. Now, one fan is paying homage to the characters, and Jordan Peele has taken notice.
A TikTok user known as Eugene Bush posted a clever video that shows him dropping his phone into a clothes bin, only to be caught by his Tethered on the other side. The video clip has since gone viral and has been shared on Twitter. And it was there that Us writer and director Jordan Peele saw it for himself and could only respond with a single word. Check out the original video and his reaction below:
In all seriousness, Eugene Bush deserves a serious round of applause for his efforts with this video. Not only is it visually impressive, but it's also slightly unnerving. It's even more impressive when you consider that TikTok posts are very limited in term of length. Bush appears to be a major fan of Us, as he's also produced a number of other videos related to the film.
Of course, the best part about this has to be the fact that Jordan Peele got to see it for himself. Bush is sure to have a sense of excitement and pride in the fact that Peele gave him a thumbs up but, if you're Peele, you have to be amazed by the reach of your work.
TikTok videos are far from the only way in which fans have paid tribute to Us and the Tethered. Last Halloween, dozens of fans dressed up as them, though Jordan Peele wasn't as comfortable with that kind of tribute. While he appreciated the fandom, he honestly found it somewhat disturbing that so many people wanted to mimic the Tethered. Interestingly enough, it was actually Peele's fear of doppelgangers that inspired the film in the first place.
Since the release of Us, Jordan Peele has been very careful about what he does and doesn't say in regard to the Tethered. From the moment the first trailer premiered, he made it very clear that the subterranean beings were a metaphor for the idea that everyone is his or her own worst enemy.
Peele hasn't, however, been too keen to talk about what lies ahead for the group following the events of the movie. To him, he finds the possibilities fascinating but not important to the Tethered's overall story. So those looking for further answers are likely to be disappointed.
But that uncertainty won't stop fans from finding new and creative ways to honor the elusive and lethal characters. And while they do that, they'll undoubtedly be waiting anxiously to see what creepy creation Jordan Peele comes up with next.
Your Daily Blend of Entertainment News
Covering superheroes, sci-fi, comedy, and almost anything else in film and TV. I eat more pizza than the Teenage Mutant Ninja Turtles.
Your Daily Blend of Entertainment News
Thank you for signing up to CinemaBlend. You will receive a verification email shortly.
There was a problem. Please refresh the page and try again.