Elvis Presley Director Recalls The Day Tom Hanks Was Diagnosed With Coronavirus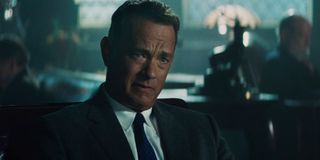 When the world learned that Tom Hanks and Rita Wilson had coronavirus, the general response seemed to be shock. That was even moreso the case for director Baz Luhrmann, who was at the helm of the Elvis biopic Hanks was shooting in Australia at the time he has diagnosed. Luhrmann vividly remembers the moment he learned Tom Hanks had contracted the virus and how the film crew reacted to the knowledge.
It's hard to say that anything associated with the pandemic can be attributed to good timing. In the case of Tom Hanks' diagnosis though, it sounds like there was a hint of luck involved. Baz Luhrmann had connected with a public health official and the premier of Queensland, Australia in February after there had been a coronavirus case where the cast and crew were staying. That previous interaction left him somewhat prepared for what was to come -- a dramatic and frightening moment to be sure. Baz Lurhmann learned about Tom Hanks and Rita Wilson falling ill while he was in the midst of final preparations for production:
Though it was obviously a stressful event for all involved, Baz Lurhmann told Deadline that he has been able to find a sliver of a silver lining in the whole ordeal:
He's not wrong. For many of us, Tom Hanks and Rita Wilson were the first people we "knew" who had coronavirus, and their diagnoses definitely marked a turning point in public consciousness. Their cases also served as a great example for how to minimize the potential spread of the virus. The actors practiced and frequently advocated for self-quarantining -- and Baz Lurhmann said, anyone who had come in contact with Tom Hanks also did the same.
Thus far, no other positive cases came from anyone on the cast or crew. For now, the production has understandably been delayed, but Baz Luhrmann is working closely with Australian officials to decide when it's safe to resume.
Your Daily Blend of Entertainment News