Tom Hanks Details Coronavirus Battle In His Hilarious And Heartfelt Saturday Night Live Monologue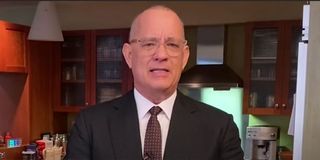 Saturday Night Live's the latest series to kick off an "At Home" edition and this week's episode did not disappoint, with Tom Hanks popping on to host the brand new episode. The man kicked off with a "hey all you cool cats and kittens" nod to Tiger King, then proceeded to give a funny and heartfelt monologue touching on his coronavirus diagnosis and more.
Tom Hanks has actually been in the news a lot lately, notably because he and his wife Rita Wilson were among the celebrities diagnosed with Covid-19. He's also notable because he spent a lot of active time updating fans on what happened as the disease ran its course and he touches on it more, below.
In the monologue, Tom Hanks reveals that while he and Rita Wilson are over Covid-19 these days, they are still hunkered down at home like most other Americans. He also talked about his experiences over the past several weeks and why he was asked to host this first special SNL At Home episode.
While one of the reasons Tom Hanks was asked to do this likely has to do with coronavirus, another may have to do with the fact that Tom Hanks is a longtime friend of Saturday Night Live. The popular actor actually joined SNL's elusive "Five Timers Club" back in 1990 and has appeared on the late night sketch comedy series many times since then. He also allegedly originated the official club idea for the late night series, according to Lorne Michaels. He's originated iconic characters like David S. Pumpkins during his time on the show.
In fact, the episode marked his 10th time on the series, tying his run with Buck Henry, who tragically passed away back in January. Only guest stars Alec Baldwin, Steve Martin and John Goodman have appeared on SNL more times.
Interestingly, the video is trying for humor but it also shares some of the challenges Tom Hanks and Rita Wilson faced when dealing with the Australian medical system. This is totally not a shot at all of the wonderful nurses and doctors working in the country, but it was hard for Hanks and Wilson to adjust to stuff like temperatures being taken in Celsius rather than Fahrenheit and trying to decipher what the numbers meant.
Despite the joke, he ends the video by showing gratitude and giving a heartfelt tribute to those workers who are currently on the frontlines while we're dealing with a global pandemic.
Now, if you're wondering about the shaved head as I was, Tom Hanks says it was for a movie and was not a fashion choice per se. He also mentions that it is growing back slowly these days, so we may need to deal with his bald head for a while. Given people can't get to the hairdresser right now and some people have gone to great lengths to cut their own hair at home, I honestly feel like he couldn't have chosen a better time to debut this look.
Ultimately, it's good to see Tom Hanks up and about and making history for the Saturday Night Live At Home episode. It's an experiment that's been getting plenty of traction so far and we'll have to wait and see if NBC keeps giving this format a go in the coming weeks.
Reality TV fan with a pinch of Disney fairy dust thrown in. Theme park junkie. If you've created a rom-com I've probably watched it.
Your Daily Blend of Entertainment News
Thank you for signing up to CinemaBlend. You will receive a verification email shortly.
There was a problem. Please refresh the page and try again.