Guardians Of The Galaxy's James Gunn Filmed A Dirty Version Of A Fan-Favorite Line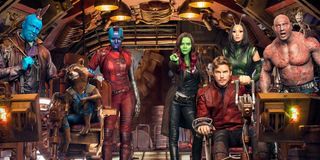 James Gunn has managed to give fans a number of character quotes through the Guardians of the Galaxy franchise. From "What a bunch of a-holes" to "I am Groot," Gunn's produced some signature quotes from his films. But one of the franchise's most popular pieces of dialogue was spoken in Guardians of the Galaxy Vol. 2. That line was delivered without any kind of profanity, but Gunn has now revealed that he shot an alternate version that was more explicit.
Most remember that during the third act of the film, Yondu excitedly yelled the phrase, "I'm Mary Poppins, y'all" after Peter Quill told him that he resembled the iconic nanny when he used his Yaka Arrow to float down to Ego's planet.
While taking part in ComicBook.com's Quarantine Watch Party for Guardians of the Galaxy Vol. 2, James Gunn revealed that he shot another version of the line in which Yondu adds a NSFW word to the line:
Based on later comments from Gunn, it doesn't sound like he ever had any intention of using that take but probably thought it would just be cool to have. And let's be honest, Disney and Marvel may have had a few reservations about including the word in one of their productions.
Yondu may not have dropped the words in the movie, but another Guardians of the Galaxy character was able to swear more than a few times in Vol. 2. In a previous tweet, Gunn revealed that Baby Groot actually dropped about 50 F-bombs in the movie. But of course, we couldn't understand them due to the language barrier.
James Gunn has always been candid about what did and didn't make it into the film, and it turns out Yondu isn't the only character who had some profanity-ridden dialogue. Gunn also recorded Bradley Cooper's Rocket Raccoon scolding Baby Groot for cursing too much. But in the process, Rocket ends up dropping several F-bombs of his own.
The Guardians of the Galaxy have always been straight shooters when it comes to expressing their thoughts. Peter Quill had no problem telling Tony Stark his plan sucked in Avengers: Infinity War, and Rocket Raccoon got very real with Thor when the two went back in time in Endgame. With this, the fact that they choose to swear is understandable. Nevertheless, the fact that Gunn didn't include any of these bits doesn't take away from the blunt (and humorous) sting of their words.
So it can definitely be said that "I'm Mary Poppins, y'all" is still a phrase that's going to be recited by moviegoers for years to come, even without the omitted swear word. And that's probably a good thing since many of those moviegoers are likely going to be children. Guardians of the Galaxy Vol. 2 is now streaming on Disney+.
Your Daily Blend of Entertainment News
Covering superheroes, sci-fi, comedy, and almost anything else in film and TV. I eat more pizza than the Teenage Mutant Ninja Turtles.
Your Daily Blend of Entertainment News
Thank you for signing up to CinemaBlend. You will receive a verification email shortly.
There was a problem. Please refresh the page and try again.