If Guardians Of The Galaxy's Michael Rooker Returns To The MCU, Don't Expect Him To Play Yondu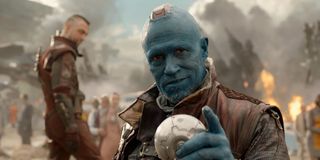 Michael Rooker has a few words for fans who want Yondu back: it isn't happening. While the actor has entertained speculation about how his character would fit into future MCU films, he's made it pretty clear he has no plans to bring those ideas to life. He's got a very clear cut reason for why he won't reprise the role, too -- one that's hard to argue with.
In what was easily one of the most heartbreaking moments in all of the MCU, Yondu sacrificed himself to save Peter Quill in Guardians of the Galaxy Vol. 2. He also absolutely, definitely died, if the spectacular funeral he had at the end of the movie wasn't any indication. That's a huge bummer for fans of a character who transformed from antagonist to ally. But it is what it is, and Michael Rooker has no problem shutting down any speculation as to whether or not Yondu will ever be resurrected:
James Gunn most definitely agrees with that sentiment. He has always been clear that he wouldn't bring a character back to life in one of his films -- especially Yondu, because it would make his sacrifice less impactful. He has admitted that it wouldn't be out of the realm of possibility to have Michael Rooker return as Yondu in a flashback or prequel situation, but there's no indication we'll get that in Guardians of the Galaxy Vol. 3. During his interview on Michael Rosenbaum's podcast, Michael Rooker said he agrees with James Gunn about the importance of sticking to a character's death:
I don't know about you, but I have a feeling we won't be seeing Michael Rooker in blue-face again any time soon. That doesn't mean he'll never work with James Gunn again, though -- the pair are longtime friends, and the actor has appeared in most of the director's movies up until this point. James Gunn even has a stock of Rooker-themed toilet paper he recently had to break out.
The most interesting point here is that Michael Rooker definitely isn't saying no to more time with the MCU -- he'd just want to play a different character. If that ever came to pass, he wouldn't be the first actor to pull double duty in a Marvel production. But his performance as Yondu was so memorable, it would be interesting to see how fans would respond to seeing him in an entirely different role.
What do you think? Would you be up for another Michael Rooker-MCU collab? Let us know in the comments.
Your Daily Blend of Entertainment News