Why Smallville's Michael Rosenbaum Passed On The Suicide Squad Role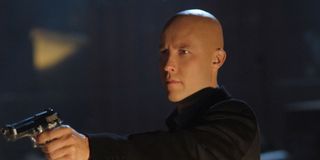 Michael Rosenbaum is mostly known for his work on Smallville as the infamous Superman archnemesis Lex Luthor. He played that role for ten seasons with great acclaim, with many fans wanting to see him making a return. However, you may not know that Michael Rosenbaum also appeared in Marvel's Guardians of the Galaxy Vol. 2 as Martinex.
Now it appears that James Gunn, director of Guardians of the Galaxy Vol. 2, had a role in mind for his friend Michael Rosenbaum for his latest project, The Suicide Squad. Unfortunately, Michael Rosenbaum told Comicbook.com that he had to pass on the project. Here's why:
If Michael Rosenbaum had been able to take the role, it would have meant a return for the actor to the DC universe, but this time on the silver screen. It's unclear what role exactly he would have had in The Suicide Squad, but it likely wouldn't be Lex Luthor.
For Lex Luthor's part, it's unclear what the future holds for him. Many actors since Michael Rosenbaum's version have stepped up. In the DCEU, Jesse Eisenberg played Lex Luthor in both Batman v Superman: Dawn of Justice and Justice League, but he doesn't suspect he'll be playing the character again. Jon Cryer also played Lex Luthor in the television show Supergirl, which Michael Rosenbuam had some thoughts about.
Michael Rosenbaum did have an opportunity to play Lex Luthor again in The CW's Arrow-verse crossover event, involving tons of former DC stars. However, he went to social media to announce he wouldn't be part of it because the deal wasn't very good, claiming he wasn't even sure if he would be making any money doing it.
That's not to say he's done entirely with Lex Luthor. Though Smallville had its final farewell almost ten years ago, Michael Rosenbaum is returning, in a way, to Smallville. It was recently announced the Smallville cast, including Tom Welling, Kristen Kreuk, and yes, Michael Rosenbaum, would do a virtual cast reunion for charity.
It'll be interesting to see how The Suicide Squad performs critically and at the box office. If it does well, perhaps James Gunn will return and try to bring his friend Michael Rosenbaum with him. Only time will tell.
Your Daily Blend of Entertainment News