Speed And 6 Other 90s Movies Dwayne Johnson Would've Been Perfect For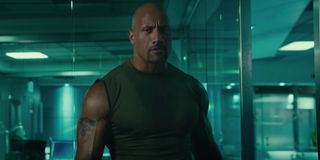 About 15 years ago when WWE was gearing up towards WrestleMania 21 in Los Angeles, the company ran a series of promo videos where wrestlers recreated some of the most iconic movie scenes. The only thing missing from those scenes was Dwayne "The Rock" Johnson, who was busy making real movies. But what if The Rock would have still been with WWE at the time? Would he have paid homage to action movies like Speed, Demotion Man, or True Lies?
Looking back on those promos got me thinking about Dwayne Johnson taking on some of the biggest and baddest roles of the 1990s. What roles would he have been perfect for and how would he have pulled it off?
Lucky for us all, I have a place to think about The Rock in a number of those movies.
Speed
Pop quiz, hot shot. Dwayne Johnson wasn't wrestling — hell, he was still in college — when Speed rolled into theaters in the summer of 1994 and helped prove that Keanu Reeves had what it takes to carry multiple action thrillers on his back. But what if Johnson had left college after winning the National Championship with the Miami Hurricanes and decided to start acting. Could he have pulled off the role of Jack Traven?
I'm not going to stand here and say that The Rock would have been better than The Keanu, but the future wrestling star would have done a tremendous job with the physicality, cheesy dialogue, and unnatural delivery demanded by the role. And just imagine how intense the iconic bridge jump would have been with Dwayne Johnson onboard. Johnson went on to play one of the most badass cops in action movie history so it's not out of the realm of possibility.
Demolition Man
With all the intrigue surrounding the rumored possibility of a Demolition Man 2 lately, I had to include the original 1993 science fiction "fish out of water" spectacle on this list. There's something about Sylvester Stallone's presence in this movie that really turns this from what could have been a forgettable early '90s action movie into one of the most memorable movies of the decade. But what if Dwayne Johnson was the face of John Spartan?
Well, I think that Dwayne Johnson wouldn't have any trouble pulling off action and the comedic elements of the character, especially the scene where John Spartan continually gets citations for his foul language. The Rock would have a field day with that scenario and stretch it out as long as possible for quickly changing his tone. Also, watching Johnson figure out how to use the three seashells would be worth the price of admission alone.
True Lies
Between Terminator 2: Judgment Day and Titanic, James Cameron a little action comedy movie by the name of True Lies starring Arnold Schwarzenegger, Jamie Lee Curtis, and Tom Arnold of all people. This explosive and surprisingly funny is one of the most underrated action movies of the decade, but would it have been even better if it were Dwayne Johnson playing Harry Tasker as he tries to hide his secret life from his wife?
The very thought of The Rock trying to act like he's a computer salesman has me in stitches right now, and I can't be the only one to feel that way. The premise of the movie is pretty much tailored for someone like Dwayne Johnson in that it lends itself to great action sequences separated by some light comedy. Let's keep the horse through the mall scene and take out the whole Harry spying on his wife angle, though.
Cliffhanger
Before Dwayne Johnson was being cast in just about every action movie known to man in the 2000s and 2010s, there was Sylvester Stallone headlining action thriller after action thriller in the 1980s and 1990s. Just look at Stallone's filmography and you can't find a stretch of more than a year when he wasn't in something like Cobra, Tango & Cash, and Cliffhanger, which brings me to my next point. Just imagine for a second that Dwayne Johnson woke up one morning and found himself in front of the casting director of Cliffhanger back in the early 1990s.
If Sylvester Stallone wasn't in the picture in this made-up scenario, Johnson would be a sure bet for the role of Gabriel "Gabe" Walker. First off, he's got the physique down and the facial expressions down, so he would be perfect for the rescue ranger haunted by the memory of not being able to save his best friend's girlfriend. On top of that, Johnson has proven time and time again that he's willing to take on the physicality of roles like seen here in Cliffhanger.
Con Air
I'll go ahead and admit it — Con Air is one of my favorite movies. I have a genuine love for this movie and there's nothing that anyone can say that's going to change my mind. Nicolas Cage's performance as Cameron Poe is one of the best of his career, so there's no way of replacing him with Dwayne Johnson. But there is someone else, someone by the name of U.S. Marshall Vince Larkin.
I'm not trying to take anything away from John Cusack's portrayal of the U.S. Marshall, but having The Rock, especially the 1997 version of the wrestler with the terrible hair and lack of massive self-confidence would be hilarious here. Watching as Johnson brings Larkin to life and stands up and fights alongside Cameron Poe would be odd and electric, kind of like this movie.
Multiplicity
And to prove that Dwayne Johnson is more than just a muscle-bound meathead with a million-dollar smile, how about putting him in the place (or places) of Michael Keaton in the 1996 Harold Ramis-directed science fiction comedy Multiplicity. Strange, I know, but stick with me.
Over the course of his career (both wrestling and acting), Johnson has done a tremendous job of balancing different characters. From his hopeful beginnings as Rocky Maivia to the "Corporate Champion" with $500 shirts and leather shoes to all the different roles he's taken on since moving over to Hollywood, he's done it all. This is why he would be such a great fit in a movie where a man is able to duplicate himself with different personalities. Just imagine multiple Dwayne Johnsons running around the house.
Toy Story
Having Buzz Lightyear be voiced by anyone not named Tim Allen could be considered sacrilegious to most Toy Story fans, but hear me out. Imagine, if you will, that we live in a 1995 where Dwayne Johnson's career got started about 10 years earlier than in real life and Tim Allen wasn't available to voice the toy who's convinced he's not a toy? Wouldn't The Rock be perfect here?
Still don't believe me? Okay, but like I said — hear me out. During his wrestling days and then over the course of his ridiculously successful run in Hollywood, Johnson has proved time and time again that he can handle his own when it comes to comedy especially when he's the butt of the joke. So just imagine Luke Hobbs trapped in the mold of a toy who doesn't know he's a toy. Now, this is not me taking anything away from Tim Allen — he was my favorite member of the original cast as a kid — but we were living in that hypothetical world I mentioned up above, then The Rock would be perfect for Buzz Lightyear. Plus, he's great with catchphrases and has the eyebrows to pull it off.
Those are just a few of the roles from the 1990s that Dwayne "The Rock" Johnson would have been perfect for. And as much as I wanted to include Michael Bay's fantastic action thrill ride The Rock, I just didn't think The Rock starring The Rock had a nice ring to it. I also thought about including Jumangi, but The Rock has already taken care of that to great success.
Your Daily Blend of Entertainment News
Philip grew up in Louisiana (not New Orleans) before moving to St. Louis after graduating from Louisiana State University-Shreveport. When he's not writing about movies or television, Philip can be found being chased by his three kids, telling his dogs to stop barking at the mailman, or yelling about professional wrestling to his wife. If the stars properly align, he will talk about For Love Of The Game being the best baseball movie of all time.