How Hollywood's Shutdown Has Been A Good Thing For The Walking Dead Movie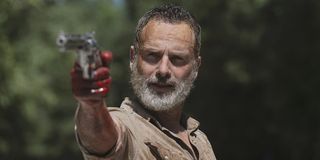 Sometimes unexpected shutdowns and delays can actually be a good thing for a movie, like when Tom Cruise's injury on Mission: Impossible – Fallout helped director Christopher McQuarrie fine-tune the script. It sounds bad at first but, in some situations, it can be a blessing in disguise. With this, it sounds like the same could be true for The Walking Dead movie, according to director Greg Nicotero.
The Walking Dead has been a powerhouse television show, to say the least. With 10 seasons, an eleventh on the way, and several spin-offs, it makes sense that the franchise would branch out to the silver screen. However, due to the shutdown, fans have wondered about the current status of the production. Well, recently, director Greg Nicotero spoke about it. Here's what he said:
Greg Nicotero's comments to Syfy are a testament to the upside of delays, and there are plenty of other examples. Recently, Kevin Smith revealed he's been using the downtime to finish the Mallrats 2 script and, back when J.J. Abrams worked on Star Wars: The Force Awakens, he used Harrison Ford's injury to rewrite scenes he wasn't happy with. Hopefully, for The Walking Dead, movie this will result in a stronger script.
Aside from The Walking Dead, Greg Nicotero believes there's likely going to be a huge boom in scripts and screenplays during this shutdown, with writers scribbling away at their ideas. He added:
Scott M. Gimple, being one of the many busy screenwriters during this time, commented earlier this year that he intends for The Walking Dead movie to heighten the stakes for Rick Grimes. Everything Rick Grimes went through on the television show will feel like preparation for what he's going to face in the movie. However, Gimple also said that he envisions the movie to be similar to Logan -- a kind of swan song for Rick Grimes that works entirely on its own.
As of right now not much is known about the big-screen adaptations of The Walking Dead, though it's been said that seeds have already been planted for what's to occur.. As always, we'll keep you updated as the story progresses.
Your Daily Blend of Entertainment News