Why Mel Gibson Isn't In Mad Max: Fury Road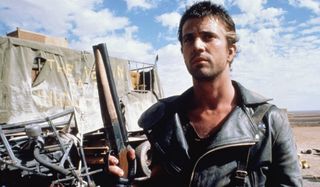 Though the last Mad Max movie opened back in 1985, Mel Gibson is still synonymous with the franchise. He played the leading role of Mad Max Rockatansky in the 1979 original, the sequel in 1981 and the third installment Beyond Thunderdome. With Fury Road coming out later this year, Tom Hardy of Bane fame is replacing Gibson in the role and the original actor won't be popping up in any sort of capacity. But he could have, and he almost did.
Warner Bros. screened exclusive footage of Mad Max: Fury Road at this year's SXSW Film Festival, after which time The Huffington Post interviewed its director, George Miller. In speaking to whether there were some plans to include Gibson in some capacity as an older Max, Miller revealed,
Miller's referencing the time Gibson famously made headlines for a series of homophobic, anti-Semetic and racist comments caught by the media. He later attempted to clarify some of his derogatory statements, but would eventually be overcome by another scandal involving The Passion of the Christ. After the film hit theaters, Gibson received harsh criticism for its alleged antisemitic content. In 2006, the actor/director was arrested as a suspected drunk driver, at which time he drunkenly blurted out to the arresting officer offensive somments about Jewish people being "responsible for all the wars in the world." Gibson has since apologized for those comments, but the damage -- as far as his film career -- was done.
While his presence could've made for an appropriate nod back to the franchise's glory days, the upcoming Mad Max: Fury Road is, as Miller said, very much about this younger Max in Tom Hardy. The Dark Knight Rises actor, bolstered by performances from Snow White and the Huntsman's Charlize Theron and X-Men: Apocalypse star Nicholas Hoult, will attempt to introduce a new generation to the franchise. So far, everything we've seen of the film, including those explosive trailers, have had us craving more. Hopefully moviegoers will be doing the same come release time on May 15.
Your Daily Blend of Entertainment News