Dune's Denis Villeneuve Spent A Year Getting One Major Character Right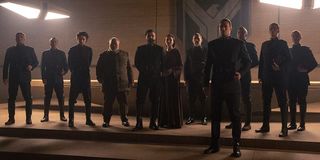 As with any science fiction property, the Dune universe is packed with all sorts of fantastical elements, though one thing it's decidedly lacking in is alien life forms. One of the notable exceptions to this are the sandworms of Arrakis, and for the new Dune movie, director Denis Villeneuve dedicated a year to ensure this the sandworms in his cinematic adaptation were realized properly.
Here's what Denis Villeneuve recently said about the process he and his team went through designing the sandworms for Dune:
Although the sandworms have previously been shown off in David Lynch's Dune movie and the Dune miniseries that aired on the then-Sci-Fi channel, with visual effects technology better than ever and a filmmaker like Denis Villeneuve leading the charge, one can logically assume the sandworms in the new Dune will look even more glorious. However, as Villeneuve laid out to Empire, he and his creative collaborators did their homework to ensure that these versions of the sandworms felt realistic, yet still monstrous enough.
For those unfamiliar with the Dune mythology, the sandworms can grow to hundreds of meters length and are practically indestructible. The sandworms also guard melange deposits, with melange, one of the most valued substances in the Dune universe, being a byproduct of the creatures' life cycle. As a result, any parties looking to harvest melange, a.k.a. "spice," on Arrakis must frequently contend with the sandworms.
Warner Bros has finally released the first pictures depicting many of the main Dune characters over the last month, but we still have yet to see any looks at the sandworms. I can easily envision our first glimpse at one or more of these monstrosities being saved for the end of the first Dune trailer, but for now, we'll just have to keep imagining how they'll look compared to their live action predecessors.
Just like the original Dune novel, the new Dune movie will follow the Atreides family being given control of Arrakis, only for patriarch Duke Leto Atreides to be betrayed and have the mining operation seized by nefarious parties. This forces Leto's son, Paul, and his concubine/Paul's mother, Lady Jessica, to flee to Arrakis' surface and join forces with the planet's Fremen to take back what is rightfully theirs.
Dune's ensemble cast Timothée Chalamet, Rebecca Ferguson, Oscar Isaac, Josh Brolin, Stellan Skarsgård, Dave Bautista, Zendaya, Jason Momoa and Javier Bardem, among many others. Unlike David Lynch's Dune, Denis Villeueve's Dune will only adapt the first half of Frank Herbert's original novel, with a sequel covering the latter half being written by Jon Spaihts. There is also a Dune prequel series in development over at HBO Max called Dune: The Sisterhood.
Dune is set to hit theaters on December 18, so keep checking back with CinemaBlend for more updates on the project. In the meantime, keep track of what other movies are supposed to arrive later this year with our 2020 release schedule.
Your Daily Blend of Entertainment News
Connoisseur of Marvel, DC, Star Wars, John Wick, MonsterVerse and Doctor Who lore. He's aware he looks like Harry Potter and Clark Kent.
Your Daily Blend of Entertainment News
Thank you for signing up to CinemaBlend. You will receive a verification email shortly.
There was a problem. Please refresh the page and try again.