Jason Momoa Is Just As Pumped About Those First Look Dune Photos As We Are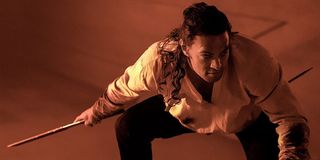 Though its release date is a ways away yet, excitement is building for Dune, a movie adaptation of the masterpiece science fiction novel by Frank Herbert, and this week we've been given the first look at several new photos. Among those just as pumped for the movie as we are is Aquaman himself, Jason Momoa, who also will be in Dune.
Jason Momoa took to social media to declare his excitement for being a part of the film and showed off his character, Duncan Idaho. In the novel, Duncan Idaho is a master sword fighter and right-hand man to Duke Leto, played by Oscar Isaac. Here's what Jason Momoa had to say:
Badass cast, indeed. The cast is filled to the brim with stars, including Timothee Chalamet, Josh Brolin, Dave Bautista, Zendaya, Javier Bardem, among many others. But it makes sense to have such top talent for a film this expansive in order to honor the epic scope of the groundbreaking novel.
Jason Momoa also recently spoke more in depth about his character and what he'll be doing in the movie. He calls Idaho a Han Solo-esque character who helps protect Timothee Chalamet's character, Paul Atreides. Sounds like a character right up Momoa's alley.
Naturally, Jason Momoa is no stranger to big blockbuster action films, playing Aquaman in several DC movies, like Justice League and, of course, Aquaman. So, he should have no problem cracking skulls and taking names in this picture.
He'll be returning to the titular heroes aquatic realm as well, claiming Aquaman 2 will be bigger than the original and that he also pitched his own ideas and vision. It sounds like this new sequel will be off the hook. But, cheesy puns aside, we'll have to wait a while before seeing Aquaman swim the seven seas again, as the movie doesn't release until December 2022.
Dune will also have its own sequel of sorts, and probably many more if the movie is successful, as it was learned Denis Villenueve's vision will be broken up into two parts. It's easy to see why he would want this to happen. The novel is massive in scope, world-building, and adventure, and needs space to breathe. So, for all purposes, this should be good news. You can see Momoa and other new cast photos in the post below.
I'm curious to see how Jason Momoa plays Duncan Idaho. I think casting him for the role could work out really well. He already has some of his key features and attributes. And, let's be honest, he's got the action star thing down pat.
Your Daily Blend of Entertainment News
Your Daily Blend of Entertainment News
Thank you for signing up to CinemaBlend. You will receive a verification email shortly.
There was a problem. Please refresh the page and try again.