This Throwback Photo Of Keanu Reeves Beating Rob Lowe At Basketball Is Everything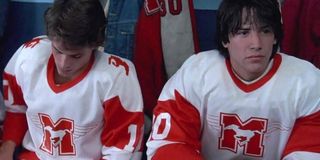 It's hard to imagine Keanu Reeves and Rob Lowe playing basketball together. The two actors have come a long way since their early '80s heartthrob days, with Keanu Reeves playing iconic action heroes and Rob Lowe playing a wide range of dramatic and comedic roles on television.
Still, despite their divergent career paths, at one time they did, indeed, play basketball together. Recently, Rob Lowe shared on social media an old photo of him and Keanu Reeves standing together and smiling, wearing "Fairfax High Celebrity Basketball" t-shirts. And, it's pretty much everything you might imagine. Check it out:
As Rob Lowe joked, Keanu Reeves beat him at basketball by 22 points, an impressive lead by any standard, but not a total surprise considering this is John Wick we're talking about.
Way back in 1986, Keanu Reeves and Rob Lowe starred together in Youngblood, a movie about a young, up-and-coming hockey player (Rob Lowe) that wants to impress scouts for the NHL. While in the movie Keanu Reeves played Heaver, the Mustangs' goalie, he also played hockey growing up and was noted for being a great goalie on the set of Youngblood.
It wasn't the last time Keanu Reeves showed off his affinity for sports in movies. He starred in the 2000 movie The Replacements, a comedy about a football strike and the owners attempt to hire substitute players. He also starred in Hardball, about a guy agreeing to coach a little league baseball team in Chicago. Perhaps one day he'll get to show off his basketball skills in a movie?
Now, years later, Keanu Reeves and Rob Lowe are working on vary different projects. Keanu Reeves is revisiting old characters back from the 80s with Bill & Ted Face the Music, a movie that's finished filming and is in post-production. He was so devoted to the role that he shaved his beard.
Rob Lowe is more recently well known for his hilarious performance of the fitness freak Chris Traeger on the television comedy series Parks and Recreation. Though he's been off the show for some time now, he and many of the other Parks and Recreation stars returned for a one-off episode to raise money for charity.
Rob Lowe can more recently be seen on Fox's 9-1-1: Lone Star, which premiered earlier this year. It's about New York City firefighter Owen Strand (Rob Lowe) that moves to Austin, Texas with his son.
Since it's been years since Keanu Reeves and Rob Lowe have been in a movie together, perhaps it's time to put them back on the court and see what they're made of. I mean, who wouldn't want to see a Keanu Reeves and Rob Lowe basketball movie?
Your Daily Blend of Entertainment News
Your Daily Blend of Entertainment News
Thank you for signing up to CinemaBlend. You will receive a verification email shortly.
There was a problem. Please refresh the page and try again.