Keanu Reeves Movies That Prove He's More Than An Action Star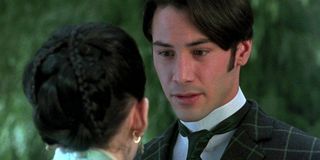 Keanu Reeves is returning for another round of chasing, shooting, knife-throwing and butt-whooping in John Wick: Chapter 3 – Parabellum, the much-anticipated third installment in what has become an underdog success story of sorts (no unfortunate pun intended). The 54-year-old action star is spry and still kicks ass and takes names better than most people half his age can. Keanu Reeves has proven he has chops time and time again in nearly three decades of action flicks, including (but not limited to): Speed, The Matrix movies, Point Break and more.
However, to suggest that Keanu Reeves is solely an action man would sell him short.
While the actor has been mocked heavily throughout the years for his dry delivery, Keanu Reeves has shown himself to be a resilient and ever-evolving actor; he has worked through multiple different genres throughout his career, in a wide array of films — both big and small. So, we've decided tol take a look at Keanu Reeves' other films beyond his action movies, showcasing an actor who has gone on to be one of the most dedicated and commendable performers in the film business.
Keanu Reeves In Comedies
Before he made a name for himself as an action star in the '90s and early '00s, Keanu Reeves was best known for his comedic chops. Most notably, playing the latter half of the title duo in 1989's Bill & Ted's Excellent Adventure and 1991's Bill & Ted's Bogus Adventure, respectively. As Ted, working alongside Alex Winter's Bill, Keanu Reeves played up his laid-back vibes to perfectly goofy effect. He had easy and winning chemistry with his on-screen friend, providing audiences everywhere with an endearing daffy slacker persona with loads of charm and heart to boot.
Surprisingly, Keanu Reeves' comedies have been few-and-far between since then. But he didn't leave the genre behind entirely. Keanu Reeves would still make appearances in the occasional comedy. Some examples include, but aren't limited to, his work in 1993's Even Cowgirls Get The Blues, 2001's The Replacements and a nice supporting turn in 2003's Something's Gotta Give. For the most part, Reeves left comedy on the back-burner to continue his action career. The actor would only dip his toes into funny territory (or, at least, intentionally funny territory) periodically for awhile, notably with his turn in 2005's little-seen indie Thumbsucker and 2015's divisive dark comedy, Knock Knock.
For my money, Keanue Reeves provided one of his best and most underrated turns in recent years in last year's winningly mean-spirited romantic comedy Destination Wedding, where he worked wonders with his sharp chemistry with Winona Ryder. Thankfully, Keanu Reeves has a new comedy lined up in the future, and it's one that has long been promised. Specifically, Reeves is set to reprise his role as Ted Logan in 2020's sequel, Bill & Ted Face the Music. Excellent!
Keanu Reeves In Suspenseful Thrillers
While the actor has often channeled his cool energy into playing the good guys, the actor has showcased a great talent for playing an opposing bad guy as well. As anyone who faced against John Wick would know, you don't want to get on the guy's bad side. Particularly when he's playing the villain, that adds a whole new layer to his capabilities as an actor. In fact, I'd argue that some of his best roles in recent years have been on the antagonist side.
More specifically, Keanu Reeves gave some of his best performances to date in a pair of controversial 2016 titles: The Neon Demon and The Bad Batch, respectively. While he doesn't have a ton of screen time in either movie, Reeves provides a menacing presence in both performances, allowing audiences to see a new side to the actor's capabilities. He can be calm and collected in an unsettling measure, and when you don't exactly know what his character is up to, it adds to the stakes enormously. Sure enough, when plays a mean, shadowy guy, you get to see more of the actor's potential.
Keanu Reeves In Dramas
While Keanu Reeves is primarily known for his genre films, the actor has found himself in a few dramas throughout the years. Notably, Reeves has found himself working with esteemed directors like Gus Van Sant, Francis Ford Coppola, Kenneth Branagh and Sam Raimi, to name a few, and his work in the dramatic arts has always been a bit wavering. Some of his best performances have been his dramatic ones. Some of his worst have been dramatic roles too, however.
His work in 1991's My Own Private Idaho was a respected departure from his established comedic work at the time. His performance in 1992's Bram Stoker's Dracula is often considered a low-point for the actor. Though the movie itself has its fans, Keanu Reeves was considered miscast in the prominent part. Luckily, it didn't deter the actor, and he continued to appear in drama films, including 1993's Shakespeare adaptation, Much Ado About Nothing, 1995's A Walk in the Clouds, 2000's The Gift and 2001's Sweet November.
Furthermore, Keanu Reeves received good notices in 2001's Hardball. While the film itself received tepid notices, his performance was praised, and it showcased a new emotional range for the actor. His last drama was 2017's Netflix film, To the Bone, which also starred Lily Collins.
Keanu Reeves in Romances
Like many of us, Keanu Reeves appears to be a romantic at heart. The actor can be the opposite of passionate in a few of his calmer or hard-edged performances. Yet, when you see the actor as the romantic love interest, you begin to see the softer, sweeter side of his persona. Some examples include 2006's The Lake House, which reunited Keanu Reeves with his Speed co-star Sandra Bullock. Prior to that, Keanu Reeves showcased his love for Cameron Diaz in 1996's Feeling Minnesota. He also showed his romantic side in 1997's drama The Last Time I Committed Suicide.
Furthermore, as mentioned earlier, Keanu Reeves appeared in Destination Wedding, though the film tends to pride itself on being a bit of an anti-romantic comedy until it's, you know, a traditional romantic comedy. But in both the romantic and unromantic sides of things, Keanu Reeves excels. When it comes time to stop making as many action flicks, it might be wise for the actor to consider more fluttering romances. Just a thought.
Keanu Reeves in Animation
Keanu Reeves has a very defined, distinctive voice. It's surprising to me that he hasn't done a lot of voiceover work, honestly. The actor's cool, commanding vocal chords can carry a lot of gravitas in the right role. That makes his rather limited voice-only appearances kinda confounding. Seems like untapped potential, if you ask me. Nevertheless, the actor has lent his pipes to a few animated projects throughout his varied career. Though notably, most of these VO parts are comedic in nature.
For instance, Keanu Reeves reprised his role as Ted Logan in 1990's short-lived animated series, Bill & Ted Excellent Adventures. The series, which only lasted 13 episodes, came out between the original film and its sequel, and it didn't make a big splash. Nevertheless, it was the first time Keanu Reeves dove into animation. It wasn't until Richard Linklater's underrated 2006 drama A Scanner Darkly that he worked in the medium again. Though the rotoscoped film is a bit of an exception, since the animation style was created by actors filming their parts on set and then being animated over in post-production through an elaborate roundabout process.
Since then, Keanu Reeves has remained in live-action, though that will change this summer. He will be playing the role of Duke Caboom in Pixar's upcoming Toy Story 4, which will be the actor's next high-profile sequel following John Wick: Chapter 3. Details about the part have been slowly creeping out before the film's release, but we should expect the part to be at least a little bit different than what we're used to getting from the actor. That's a pretty fitting way to finish up this particular piece.
In addition to the films listed above, Keanu Reeves has also proven himself in several other respects beyond his acting. He directed his first movie, the decent martial arts movie Man of Tai Chi, back in 2013. Additionally, Reeves has served as a producer on a number of films — many of which are upcoming — since 2010. He is also a musician. There's no doubt that his action career is only a small portion of his capabilities, even if it might be what he's known for best these days. Though it sounds like Keanu Reeves is willing to push himself into other projects outside of the action genre, particularly as he gets older. No matter what's next, we'll continue to keep an eye out for what's in store for Keanu Reeves.
John Wick: Chapter 3 – Parabellum hits theaters on May 17th.
Your Daily Blend of Entertainment News
Will is an entertainment writer based in Pittsburgh, PA. His writing can also be found in The Playlist, Cut Print Film, We Got This Covered, The Young Folks, Slate and other outlets. He also co-hosts the weekly film/TV podcast Cinemaholics with Jon Negroni and he likes to think he's a professional Garfield enthusiast.