Disney Parks Is Making A Behind-The-Scenes Change And I Don't Envy The New Person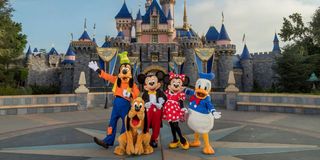 When Bob Chapek was named the new CEO of the Walt Disney Company in February it was clear that a future shakeup of the company's internal ranks were imminent. There were a few other contenders for Bob Iger's thone, who were likely going to look for work elsewhere once they discovered they weren't getting the job. Beyond that, Chapek's promotion left vacant his old position as Chairman of Disney Parks, Experiences and Products. At some point, that job would need to be filled, and if it was taken by somebody else inside Disney, which was likely, it would mean a chain reaction of promotions as people left old jobs to take new ones.
That shoe dropped yesterday when Josh D'Amaro, the former President of Walt Disney World, ascended to the job of Chairman. Jeff Vahle, the former President of Disney Signature Experiences is now running the show in Orlando. Ken Potrock, the former head of Disney Consumer Products takes the reins at Disneyland Resort. Former Disneyland President Rebecca Campbell is now the head of the Direct-To-Consumer Division, which includes Disney+, after former head Kevin Meyer, one of the people viewed as passed over for the CEO job, left Disney to become the CEO of TikTok.
For the most part, the move on the Parks side is being viewed very positively. Josh D'Amaro had only been President at Walt Disney World for a few months, but before that he was President of Disneyland Resort. His pair of quick promotions show that he has the support within the Walt Disney Company but fans of Disney Parks overall seem to view him positively, a view which, if we're being honest, was far less universal for Bob Chapek.
And the position is certainly a big benefit for Josh D'Amaro as well. He's been with Disney since 1998, has extensive experience working on the theme park side of the business, and is now in the job where the last guy promoted out of it became CEO.
And, generally speaking, the theme park business has always been booming. Even back in the early 1980s when Disney's movie output was impressing basically nobody, the theme parks were still going strong. They kept the company going almost by themselves. Since those days, the parks have undergone massive expansion which has only made them more popular with guests.
Josh D'Amaro should be on easy street right now, and yet, he's going to have a much tougher time in his job as Chairman than quite possibly anybody else in the position has ever had.
Reopening Disneyland and Walt Disney World
And the biggest task ahead of the new Chairman will be the first one he faces. Josh D'Amaro will be the man in charge of the reopening of Disney's two most important theme parks following a period of unprecedented closure. He takes the job only a couple of days before Disney Springs sees limited reopening in Florida, the first step in what is sure to be a long process.
The parks will open at some point down the road, and when they do, they'll be opened to limited capacity, though by no means a small number of people. People will almost certainly be expected to wear masks, something which is already being met with backlash. The question isn't "Will there be confrontations with guests over masks?" The question is only "How many will there be?" Social distancing measures are sure to be in effect in places where crowds of various sizes are expected.
It's a herculean task to say the least. If there are too many hurdles and headaches, there will be a view that Disney Springs opened too early, which could delay the opening of the other parks. The Disney Parks are known for their attention to detail, and that skill is going to be needed here as well, but in a way that it's unlikely anybody ever considered.
The Disney Parks Coming Financial Strain
Even after the Disney theme parks are back open around the world and operating in some fashion approaching normal, or whatever passes for normal by then, the struggle will be only just beginning for the Disney Parks. The Walt Disney Company estimates it lost $1 billion in the first three months of this year. Half of that is believed to have come from the closure of Disneyland Resort and Walt Disney World, and those parks were only closed for two weeks during that period. The final total in financial damage is going to be massive.
And it won't stop there. The global shutdown has resulted in unprecedented unemployment and we're going into a recession, the extent of which is impossible to predict. Theme park attendance could be down for years. Some will be hesitant to go any place where large crowds can be found. Others will simply be unable to afford a multi-day theme park vacation, no matter how badly they may need one.
This drop in revenue is going to have repercussions that we could be seeing for years. The Disney Parks had some major new projects on the horizon. Avengers Campus at Disney California Adventure, which was planned to open this summer, will likely move forward as it was close to completion, but other projects, like Star Wars: Galactic Starcruiser, or the massive update and expansion to Epcot, could be significantly delayed, or could see significant cost cutting measures to get them done on time, resulting in the final product not being what guests were expecting. There Park Insider is already predicting the new front end of Epcot may end up looking far less grand than concept art has teased.
These things are largely beyond the control of Josh 'Amaro or anybody else within Disney. They're the reality of the situation, but that doesn't always matter to Disney fans. Much of the negative feeling that Bob Chapek endured while Chairman of Disney Parks came because new additions to the parks like Toy Story Land and Star Wars: Galaxy's Edge were seen as promising a lot, and then delivering something less. Chapek was seen as sacrificing creativity for the bottom line, and maybe he was, but sometimes that's going to be unavoidable, and the next few years will certainly show that.
Walt Disney World's 50th Anniversary
And this isn't just a 30,000 foot conversation. A lot of the work being done at Walt Disney World right now has been part of a specific project, getting the resort ready for its 50th anniversary in 2021. A lot of the new attractions, like the Tron roller coaster at Magic Kingdom and the Guardians of the Galaxy coaster at Epcot were expected to be ready in time for the anniversary, and now, due to delays and a potential lack of money, they may not be.
If these major E-ticket attractions aren't ready, if the new Epcot fireworks show has to be delayed, and other projects we likely don't even know about can't be completed, then the 50th Anniversary that was looking to be a showcase of everything Disney Parks could do, will end up being much less.
This will be more of a disappointment than a major failing, again, there's only so much that will be able to be done. But for those that have been looking forward to what was set to be a magical experience. We'll be left wondering what might have been.
Of Course, The Upside Is Huge
Josh D'Amaro probably just got a job he's been looking forward to having for years. He probably wasn't expecting to get in during such an unprecedented time. The challenges are significant, but then again, so are the potential rewards. If D'Amaro and the rest of the team at Disney Parks can navigate their way through this minefield well, the sky's likely the limit.
Josh D'Amaro knows what guests expect at the Disney Parks and his goal will certainly be to provide that to the best of his ability. If he can figure out ways to do more with less, if he can convince his bosses like Bob Chapek to invest in the parks even though the full return may be years off, then maybe we'll end up with parks where we're not missing anything, or more likely, where we don't even notice what it is we're missing.
Maybe nobody would really blame D'Amaro if the parks struggle for the next few years. What else would we expect under the circumstances? At the same time, the buck now stops with him, and justified or not, as the man with the job title of Chairman, the blame, and the credit, will likely find its way to his shoulders.
There's certainly a lot of excitement surrounding Josh D'Amaro's promotion. There's a feeling he'll do great things in his new role. I tend to agree with that sentiment, but he's going to have to work his way through a tough period that could last for years before we're ever given a real chance to see what he can do. I certainly hope we get there.
Content Producer/Theme Park Beat
CinemaBlend's resident theme park junkie and amateur Disney historian. Armchair Imagineer. Epcot Stan. Future Club 33 Member.
Your Daily Blend of Entertainment News
Thank you for signing up to CinemaBlend. You will receive a verification email shortly.
There was a problem. Please refresh the page and try again.