Spider-Man: Far From Home Concept Art Gives Hydro-Man A Much Different Look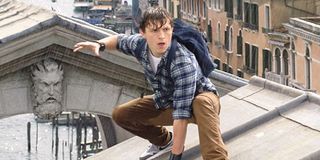 Trying to nail down the look and feel of a supervillain seems like a daunting task. Do you stay closer to the comics or go into new territory? Well, it seems in the early production phase of Spider-Man: Far From Home, the creators were trying to figure this out with the villainous Hydro-Man, and some of the early ideas greatly differed from what they eventually landed on.
Concept designer Jerad Marantz has taken to social media to share some original concept art for Hydro-Man in the "brainstorming" phase of Spider-Man: Far From Home. And yeah, this early version is definitely not what we saw on the big screen. Check it out:
As Jerad Marantz says in the post, this concept was meant for Hydro-Man to have the experiment gone wrong backstory, an egregiously common comic book backstory to have. This early version of Hydro-Man looks eerily similar to Jamie Foxx's Electro in The Amazing Spider-Man 2, and I have to say I'm relieved they didn't go in this direction.
If you recall, in Spider-Man: Far From Home, Spider-Man fights Hydro-Man as a gargantuan water monster that's one of several "Elementals," which utimately turn out to be illusions created by Quentin Beck/Mysterio (Jake Gyllenhaal). While, the not-so-surprising real villain was Mysterio all along, director Jon Watts still figured out a way to cleverly include C-List villains without falling into the usual tropes.
Up to this point, the MCU Spider-Man movies, starring Tom Holland, have turned to villains that haven't made cinematic appearances. They've also put refreshing spins on those characters, side-stepping the cliché science experiments gone wrong stories.
Of course, Marvel fans love to see their favorite A-list villains fight against Spidey, but it's hard to say whether or not we'll see the Green Goblin or Doc Ock again in the MCU's Spider-Man movies. Jon Watts has said he doesn't want to show people something they've seen before unless there's a really good reason. And Marvel Studios head Kevin Feige reiterated the same message, wanting to keep the story fresh rather than "oh, here it is again."
With this, Jon Watts has said that he would love to somehow include Kraven as a villain in one of his Spider-Man movies. But, he also noted that it still goes back to the question of how you actually make that work. Kraven is a popular Spider-Man villain that has beef with Spider-Man. A skilled tactician and hunter, he makes it his mission to hunt Spider-Man and does a pretty decent job of it, too.
Despite this, there are villains who have already appeared in the franchise that have yet to take center stage. For instance, one villain who made a cameoed in Spider-Man: Homecoming, but has yet to reappear, is Scorpion. It was teased that he and Spider-Man might run into each other in the sequel, but that didn't come to be. Perhaps they'll be facing off in Spider-Man 3?
While we know Spider-Man 3 is underway, we haven't been told what villain Spider-Man will face off against. Having turned New York (and the rest of the world) against Spider-Man, one can imagine that J. Jonah Jameson have a hand a drawing more new villains into Peter Parker's orbit. As always, we'll keep you updated on news regarding our friendly neighborhood Spider-Man.
Your Daily Blend of Entertainment News