How Kevin Feige And Jon Watts Feel About Potentially Bringing Green Goblin And Doc Ock Back To The Spider-Man Movies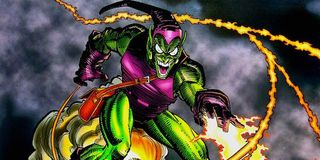 Spider-Man has one of the biggest rogues gallery in comic book history, and among the most notable of this group are Green Goblin and Doctor Octopus, who've antagonized Marvel's Wall-Crawler for nearly all of his existence. Both of these characters have already been adapted for film, but with Spidey now being part of the Marvel Cinematic Universe, the option to give moviegoers new versions of these villains is on the table.
Thus far, with the exception of Sandman serving as inspiration for the Earth Elemental in Spider-Man: Far From Home, all the Spider-Man villains in the MCU have been people who haven't appeared in movies already. So what are the chances this franchise could bring back Green Goblin and/or Doctor Octopus? Here's what Far From Home director Jon Watts had to say to CinemaBlend's own Sean O'Connell on the matter:
Jon Watts is right that there are still some Spider-Man villains who haven't gotten their live action due yet, like Kraven the Hunter, Chameleon, Spider-Slayer, Hammerhead and Tombstone. Let's also not forget that while we were introduced to Mac Gargan in Spider-Man: Homecoming, he still hasn't officially become Scorpion yet.
Still, at this point it might be worth considering reintroducing moviegoers to Green Goblin and Doctor Octopus. It's been 15 years since Alfred Molina played Doc Ock in Spider-Man 2, and while Chris Cooper did cameo as Norman Osborn in The Amazing Spider-Man 2, it was his son Harry, played by Dane DeHaan who became the Green Goblin. So as far as Norman is concerned, we've only seen him become Green Goblin on the big screen once, with Willem Dafoe delivering that creepy performance in 2002's Spider-Man.
But, as is usually the case, the MCU won't bring these characters in unless there's a story that actually warrants their presence, as opposed to being crammed in just because. As Marvel Studios president Kevin Feige put it:
It should also be noted that while it's been a minute since Green Goblin and Doctor Octopus appeared in a live action movie, both appeared in last year's Spider-Man: Into the Spider-Verse as employees of The Kingpin. However, this Green Goblin was a blend of his 616 and Ultimate universe incarnations, while Doctor Octopus was a woman named Olivia Octavius.
Back when the Amazing Spider-Man film series was still going, it looked like Green Goblin and Doctor Octopus were being set up to share screen time. Along with Harry Osborn becoming Green Goblin, Doc Ock's arms were shown alongside Vulture's wings and Rhino's suit underneath OsCorp, foreshadowing the formation of the Sinister Six.
Alas, that continuity was scrapped in favor of bringing Peter Parker into the MCU, although there is still talk of making a Sinister Six movie set in Sony's Marvel universe. Regardless, since Green Goblin and Doctor Octopus are two of Spider-Man's greatest enemies, they would be welcome additions to the MCU, and I could see Norman Osborn in particular being a villain who could cause trouble for other heroes across multiple movies.
Warning: MAJOR SPOILERS for Spider-Man: Far From Home are ahead!
Of course, given the way Spider-Man: Far From Home ended, Peter Parker has made a lot of new enemies. Before dying, Quentin Beck, a.k.a. Mysterio, released doctored footage of his confrontation with the Web-Slinger in London that depicted the hero as being responsible for the Elemental attacks across Europe and his own death. As if that wasn't bad enough, Mysterio also revealed that Peter is Spider-Man.
Thanks to The Daily Bugle (run by the always-irritable J. Jonah Jameson) broadcasting this footage to the masses, the public will now surely view Spider-Man as a villain, and Peter's life as a high school student in Queens has also been disrupted. Between Spider-Man often having a tense relationship with law enforcement in the comics and Peter unmasking himself during the Civil War storyline, Tom Holland's Spidey now has even more in common with his comic book counterpart.
Perhaps Spider-Man's new status quo can pave the way for Green Goblin and Doctor Octopus to be introduced. While I don't imagine Norman Osborn becoming Green Goblin immediately in the MCU, even as just the head of OsCorp, he could use his incredible resources to help capture Spidey, though naturally his motivation for targeting the hero would be more malevolent.
The same could go for Doctor Octopus, whether he's working at OsCorp or an independent scientist. While it would be interesting to see him and Green Goblin working together (though their egos would undoubtedly get in the way of an effective partnership), I imagine only one of them as the main antagonist, with a supporting villain or two serving as muscle.
For right now, a third MCU-set Spider-Man movie isn't officially on the slate yet, but given how critically well-received Spider-Man: Far From Home is and its box office performance so far, it will get the green light. That said, since the MCU likes to build trilogies for its individual heroes, if we are coming to the end of Spider-Man's standalone run, then the Marvel folks will need to decide sooner rather than later if they want to feature Green Goblin and/or Doctor Octopus.
If you haven't already, be sure to read CinemaBlend's review of Spider-Man: Far From Home. We'll be sure to update you once a third MCU-set Spider-Man movie is announced, but for now, check out our Marvel movies guide to learn what this franchise has coming up.
Connoisseur of Marvel, DC, Star Wars, John Wick, MonsterVerse and Doctor Who lore. He's aware he looks like Harry Potter and Clark Kent.
Your Daily Blend of Entertainment News
Thank you for signing up to CinemaBlend. You will receive a verification email shortly.
There was a problem. Please refresh the page and try again.