Avatar 2 Producer Reveals First Details Of The Sequel's Story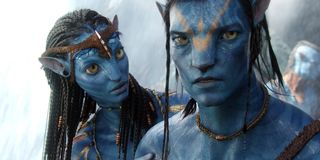 Despite Avatar 2 having been in development for over a decade, we still haven't heard much about its story. And James Cameron must have a pretty epic story in mind considering Avatar 2 is only the beginning, with Avatar 3 already filmed and more sequels planned for the future as well.
Now, it seems, story details are beginning to emerge for at least Avatar 2. Avatar producer Jon Landau recently gave a little more insight into what the sequel will be actually about, and it sounds like family and "escape" will be major themes. Here's what he said:
I think Avatar 2 fans are chomping at the bit to escape to this movie by now. Of course, the story details Jon Landau revealed to RNZ raise a whole host of new questions. For instance, how much time has passed since the original Avatar? Why has the Sully family been forced from their home? How many kids are they going to have in Avatar 2? As usual, we'll have to wait to have any of these questions answered.
Other than the family piece, it's been well documented that Avatar 2 will take place around water. A few years back, supposed titles for each Avatar sequel leaked online with Avatar 2 potentially being called Avatar: The Way of Water. Still, that title has yet to be confirmed and should be taken with a grain of salt.
We've also been given some behind the scene looks into how water will impact the Avatar 2 story. Earlier this year, photos were released that showed what the underwater filming process looks like for Avatar 2, and Jon Landau also took a photo of James Cameron filming around water and a wall of fire in one epic shot.
Despite James Cameron's experience filming around water in movies like Abyss and Titanic, it sounds like the filming process for Avatar 2 with motion capture has proved difficult for him, as he had to figure out how to get around the problem of the mirror reflections of the water. He, of course, overcame this challenge.
Recently it was announced that filming in New Zealand for Avatar 2 would be delayed due to global health concerns. Despite this, James Cameron tried to look on the bright side, saying New Zealand has done a good job controlling the coronavirus. Fortunately, last week, Jon Landau announced that they would be resuming filming in New Zealand within the week.
It's unknown if this delay will push back the release date. The current release date for Avatar 2 is December 17, 2021. Here's hoping they can keep to the schedule and release the sequel that Avatar fans have been patiently waiting for.
Your Daily Blend of Entertainment News