From Avatar 2 To Uncharted: Why Hollywood's Release Calendar Will Be Messy For Years To Come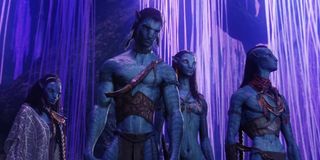 Each day, we get further and further from new movies making their way to theaters. It's understandable. Everything is at a standstill, in every industry right now. But the film industry is feeling a specific burden because it adheres to a weekly schedule. Every week that the calculated Hollywood schedule is disrupted tends to mean weeks (or months) until order can be restored. And we don't see this straightening out until 2022, and beyond.
News recently broke that more films with 2021 release dates had to be shifted, this time by Warner Bros., which shuffled The Batman, Shazam 2 and The Flash around its release calendar. The reason for this? These movies either were in pre-production or the act of filming, but have had to shut down because of our current climate. Rather than forcing these blockbusters to race to meet already announced release dates, they are pushing back… and they are not alone.
2020 Movies That Had To Move
From the moment multiplexes closed their doors, the movie calendar was deeply and instantly affected. Initially, it was soon-to-open movies like Mulan and A Quiet Place: Part II that took the hit. They had to circle new real estate on what's usually a very crowded calendar, and each major studio knew that as soon as that happened, everyone else would have to shift, causing a tumbling army of wobbly dominoes.
And so far, that has been the case. Sensing that the theater shutdown could linger into the summertime, blockbusters such as Black Widow, No Time to Die, F9 and more shifted back. This has caused a bit of a logjam in November and December of 2020 (if everything holds as currently is listed). This means that these big-ticket movies are going to face incredibly stiff competition, the likes of which studios prefer to avoid.
Studios normally analyze the calendar to find the right window to release their films. But the upheaval that landed in the laps of major studio heads means that compromises have to be made, just so studios like Disney and Warner Bros. can get their films in front of paying customers. Right now, because of the calendar realignment following the theater shutdown, Disney/Fox has six major films opening in November and December, essentially meaning they will be competing against themselves week after week. Warner Bros. has four in the same time frame. It's not ideal.
But this had to be done, and will be the new normal for the foreseeable future as movies look for weekends on which to open.
Oh, and if anyone learns when New Mutants finally is going to open, please drop me an email.
2021 Movies Facing Major Delays
Certain movies headed into this crisis in better shape than others. Vin Diesel's F9 was able to leap back a full year, while other movies such as Wonder Woman 1984 or Black Widow could pick an ideal slot because they were close to being finished.
But what about the movies that had 2021 release dates but are losing valuable time because of production shutdowns? These are mysteries that we will continue to track, but that will continue to have massive impacts on release schedules as we work our way through these next few years. There are obstacles that can't be anticipated which happen in post-production. Test screenings call for reshoots, and rewrites alter production schedules. A lot of movies that had tentative 2021 release dates could end up getting pushed back… or removed from a slate altogether.
Sony, as an example, shut down production on its adaptation of the video game Uncharted, with Tom Holland and Mark Wahlberg. The movie was filming in Germany and working toward an opening weekend of October 8, 2021.
But that was before Sony knew that WB would shift its hotly anticipated The Batman from June 2021 to October 1. Will Uncharted want to compete with Matt Reeves' DC property? Or could it simply push back to a less competitive 2022 weekend?
Then there are movies that have landed in 2022, but have yet to even begin production (or finalize a proper script yet, as far as we are aware). Let's look at Indiana Jones 5, which was inching along, with Harrison Ford locked in to play the famed archaeologist one more time. But as the industry balances this unrest, Steven Spielberg left the project, reportedly to be replaced by James Mangold, and Disney gave the movie a 2022 date, delaying its release by a full year. By then, Ford will be pushing 80 years of age. Do we think it's more or less likely that he dons the fedora for this production? My prediction is that Indiana Jones becomes a victim of the delays that the film industry currently is facing, but time will tell.
Marvel, DC and the Major Franchises
There's a whole, separate column that can be written about mid-size and independent films that will be squeezed out of the marketplace as the majors fight for screentime at our local multiplexes once theaters reopen and we return to business as normal. For now, though, I'm focusing on the franchise films that keep the industry afloat, to see how all of this affects their slate.
Marvel, for example, shifted everything back by one release date. Black Widow took Eternals' date. Eternals took Shang-Chi's date. Doctor Strange In The Multiverse of Madness is now a November release, and so on.
In the process, Marvel dated all of its movies through 2022, giving sequels to Black Panther and Captain Marvel. But do you know what wasn't announced? James Gunn's Guardians of the Galaxy Vol. 3, which we know is coming. Same for Ant-Man 3, which has been announced. The earliest we'll see these films will have to be 2023. And that's not even roping in the Fox characters that Disney acquired. Will there be new on-screen MCU versions of The Fantastic Four or The X-Men? Not until 2023, if the current calendar holds.
Over at DC, the need for continuity isn't as strong, as WB shifted away from the idea of a shared cinematic universe. But after Wonder Woman 1984, there's a lot of uncertainty regarding their heavy hitters. Aquaman 2 hasn't made any strides, and likely won't any time soon. The Flash got delayed, though director Andy Muschietti was in pre-production last we heard, so that's positive. But what of a Cyborg movie? Or the debut of the Green Lantern Corp? And will we ever see another Justice League film? These projects won't see the light of day for years, and they just get pushed deeper and deeper as the industry treads water.
The one saving grace? It could be James Cameron's Avatar. Laugh all you want, but Cameron has been hard at work on multiple Avatar sequels all at once, and very possibly could have captured enough footage to complete Avatar 2 and Avatar 3 in order to meet their announced release dates of December 17, 2021 and December 22, 2023, respectively.
Cameron designs all of his films to be events, theatrical experiences that demand to be seen on the biggest screens possible. That goes double for his Avatar films, as the first one revolutionized 3D, and we expect the new ones that push that tech even further.
We are in a new age, and we have to stay flexible. Movies are shifting, but seeking a new normal. We likely just won't see a semblance of that any time soon.
Your Daily Blend of Entertainment News
Sean O'Connell is a journalist and CinemaBlend's Managing Editor. He's frequently found on Twitter at @Sean_OConnell. ReelBlend cohost. A movie junkie who's Infatuated with comic-book films. Helped get the Snyder Cut released, then wrote a book about it.
Your Daily Blend of Entertainment News
Thank you for signing up to CinemaBlend. You will receive a verification email shortly.
There was a problem. Please refresh the page and try again.