Suicide Squad: 7 Changes The Ayer Cut Could Include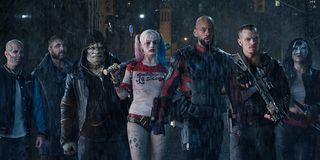 (Image credit: (Warner Bros))
Amidst the reveal that Zack Snyder's version of Justice League is on the way with next year's planned HBO Max release, another movie has entered the conversation: the Ayer Cut of Suicide Squad. The two DCEU movies have shared experiences dealing with Warner Bros' hold during a turning point for the studio following the negative critical reception of Batman v Superman: Dawn of Justice. Over the years, David Ayer has given fans some insight into the original version of his film. Much like Snyder, the writer/director believes the film he made "has never been seen."
Prior to the Justice League announcement, Zack Snyder frequently took to social media to show fans looks and provide tidbits on his version of the DCEU film that never hit theaters too. Such revelations, including Henry Cavill's Black Superman suit and the presence of Martian Manhunter, brought fans on board to frequently get #ReleaseTheSnyderCut trending – a hashtag movement vast enough that money was raised for Comic-Con billboards along with significant donations to charity. Calls for the Ayer Cut has not reached these heights, but the Suicide Squad director has not been shy about the changes made to the DCEU film.
No Ayer Cut is currently in the works to our knowledge, but David Ayer has recently spoken to how "cathartic" it would be for him to put his version of Suicide Squad out into the world – not to mention how "easy to complete" it would reportedly be for the director. Unlike the production of Justice League, Ayer was present for the entire shoot, and was asked to make reshoots and cuts to his original vision. If this theoretical Ayer Cut was announced, here's some new moments it could include:
Suicide Squad As A "Soulful Drama"
Most recently, David Ayer took to Twitter to explain one massive difference between the Suicide Squad we saw in theaters and the one he had intended. Ayer explained that the tone of the first trailer for the film "nailed" the tone he had intended for the blockbuster. It was envisioned as a "soulful drama" before Warner Bros allegedly had Suicide Squad "beaten into a comedy." The movie came out on the heels of Batman v. Superman's dark tones being criticized and the massive success of Deadpool. Ayer said Christopher Nolan's work was one inspiration for the movie.
Enchantress' Plans Connect To Justice League's Villain
Another vital element to Suicide Squad that was changed for the theatrical version of the film was Enchantress' role. Her character was initially set to be under the control of the Mother Box with Steppenwolf, who was planning an invasion with the Boom Tube in Justice League. Enchantress' brother would have also been involved in the storyline. However, script rewrites transformed Enchantress' involvement in Suicide Squad into just about the worst DCEU villain to date.
A Badass Fight Scene Between Katana And The Squad
One big disappointment from fans in Suicide Squad was the lack of Katana in the film despite an awesome tease for the character in the trailers. The character was completely sidelined and had very little to do in the flick. Fans have asked David Ayer about one lost Katana moment, and the filmmaker revealed Karen Fukuhara had filmed a sequence where Enchantress possesses the character with a tendril and has her attack the entire squad. Too bad it was cut!
A Love Triangle For Harley Quinn
Unlike the rest of Task Force X, Margot Robbie's Harley Quinn recently found center stage in Birds of Prey, but David Ayer claims he had more plans for the character in his film as well. He has said her story arc was "eviscerated" from his original plans, and it used to be "her movie" in many ways. Another recent revelation had Ayer noting that Harley Quinn was involved in a love triangle with Will Smith's Deadshot and Joker in the original version.
Diablo Surviving Through The End Of Suicide Squad
Jay Hernandez' El Diablo was the heart of Suicide Squad in many ways, but any hope in the character's return for more films in the franchise was cut short when he sacrifices himself at the end of the flick while battling Incubus during the third act. David Ayer has not given many details about his plans with Diablo in the original flick, but he had planned for the character to make it out alive by the end of the movie before reshoots changed his fate.
Monster T Facing A Different Death In Suicide Squad
In the 2016 movie, Common played a Gotham City crime boss called Monster T, who briefly appears in a scene with Joker and Harley Quinn in the beginning of the film. The character has a short scene that ends with Joker shooting him in the head for calling Harley Quinn a "bad bitch." In the original version, Joker actually taunts Monster T into killing himself in an extended sequence featuring the Joker – who had a much smaller role in Suicide Squad as well. Speaking of which...
A Lot More From Jared Leto's Joker
The element of the Ayer Cut that has been teased the most is Jared Leto's lost Joker performance in Suicide Squad. Leading up to the release, the role was advertised as a key portion of the film. However, a lot of fans were let down by what Leto's Joker turned out to be. Ayer has said that his "heart breaks" for the treatment of Joker in his film, and "most" of what was shot with the character "remains unseen." Also, there was supposedly more background for Joker and Batman's rivalry – apparently the "damaged" tattoo he dons was placed there specifically to taunt Affleck's Batman after the Dark Knight smashed his teeth for murdering the Jason Todd version of Robin. As Ayer put it:
It looks like if an Ayer Cut came out, it would give fans another perspective on the 2016 flick. What do you think? Should Warner Bros release the intended version of Suicide Squad? Vote in our poll below and stay tuned here on CinemaBlend for more DCEU news.
This poll is no longer available.
Up next: Zack Snyder's Justice League Release | How We Got Here And Why It's So Important
YA genre tribute. Horror May Queen. Word webslinger. All her writing should be read in Sarah Connor's Terminator 2 voice over.
Your Daily Blend of Entertainment News
Thank you for signing up to CinemaBlend. You will receive a verification email shortly.
There was a problem. Please refresh the page and try again.