Why The Tenet Trailer Has Us Concerned About The Movie's Fate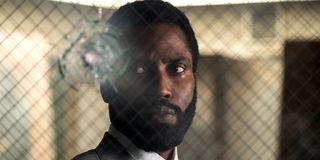 The unveiling of the new trailer for writer/director Christopher Nolan's Tenet has raised even more questions about the enigmatic filmmaker's latest offering. While the second look at this time-skewing adventure has definitely answered some of the questions we've had about the film since its announcement, there's a pretty big concern that's popped up as a result.
As it turns out, this new trailer had no release date attached to the end, which now has many concerned about Tenet's fate overall. An entire pattern of thought unravels around this particular subject, as the lack of the concrete July 17 date casts doubt over whether that long held deadline will be upheld.
In case you haven't seen it for yourself, or might have missed the sneaky lack of a release date at the end, here's the new trailer for Tenet:
Alright, now let's delve into the release date of it all... or rather, lack thereof.
The Big Concern With The Latest Tenet Trailer
Previously, the first footage shown from the film ended with the bold claim that time would run out on July 17, 2020. And up until Tenet's second trailer, that had been the company line that Warner Bros, major theater chains and even Christopher Nolan himself had upheld.
Now it seems only fitting that this new trailer show so many title cards over shattered glass, as that message looks to be crumbling itself. It's only a partial collapse though, as Tenet still promises the film will be "coming to theaters." Which, undoubtedly, was always going to be the plan.
Good News: There's A Good Chance Tenet Will Be Safely Delayed
However, Tenet's new lack of release date does signal something folks have been hoping for amid the climate of current events. This new messaging from Warner Bros is more than likely a sign that John David Washington and Robert Pattinson's adventures in time inversion are going to be pushed to another calendar slot.
The good news about this situation is that the fans who really wanted Tenet to be delayed a little further in the name of safety could get their wish. Alas, that does open up another can of worms, as Warner Bros' 2020 has been slightly more chaotic than most other studios. Though every studio has been hit with scenarios that have delayed the release of cinematic products, there's a chain of big ticket tentpole films that this studio has to deal with.
Bad News: One Of Warner Bros' Other Films Will Have To Move For Tenet
If there is to be a rescheduling of Tenet, then the August 14 date Wonder Woman 1984 currently holds will probably be the date that will be reserved for Christopher Nolan's $200+ million plane-crashing mind bender. That will potentially push the Gal Gadot starring DC Comics' sequel into the release date previously intended for either Godzilla vs. Kong or Dune.
The chances of success for all four of these films is important to Warner Bros, but clearly something has to give in terms of what's being released into theaters. Tenet and Wonder Woman 1984 are clearly the golden armored geese in this particular stable of titles, so them being released in 2020 is the priority.
No Matter What Happens, Tenet Will Be Going To Theaters
So on top of delaying Tenet into a brand new release slot, there's now the greater implication that a new release date would result in an awkwardly tepid response. Not to mention that fans of any of those other franchises might feel a little sore about the return of said appreciated franchises being delayed.
One thing that's certain is that Tenet will not be going to premium video on demand, similar to how Scoob! debuted earlier this month. With the huge budgetary and marketing spend on the line, Warner Bros is going to want the greatest return of investment on its latest Christopher Nolan gamble.
Not to mention that the 35mm and IMAX 70mm prints are probably already sitting in a warehouse, waiting to unspool in front of audiences lucky enough to have the chance to see them. Should you be someone who thought this was going to be another red carpet premiere in your living room, we send our regrets.
If Tenet Is Delayed, When Will We Find Out About The New Release Date?
The next couple of weeks should be interesting in terms of Tenet news, as the folks at Warner Bros are probably using a special slide rule that games out exactly what happens should the film be moved to any particular date. In the meantime, two tension-filled questions will be occupying a lot of people's minds: when is Tenet going to be pushed off to, and which film is going to get the bump into 2021 as a result?
We'll more than likely learn both of those answers at the same time, which combines both of those mysteries into one greater mystery, much like any good Christopher Nolan project would strive to do. The greatest question surrounding Tenet right now is when we'll discover the details of its newly-drafted fate. If I were to venture a guess, I'd say mid-June would be the latest we'll hear about the changed status of the summer blockbuster.
Right now, Tenet is under a microscope when it comes to its mysterious plot. While the mechanics of how time inversion works are enough to tease and taunt the audience into most of the discussion surrounding this movie, it's all going to lead back to when exactly the public at large will get to see it for themselves.
Good old fashioned waiting is going to eventually yield the answers to all these questions, but even at this moment, there's a small sliver of hope that Tenet will stay on track with its originally planned debut. It might not pan out, but the decision to use this film as the first major blockbuster to open once theaters go back into business is definitely sound. Questions almost always lead to hype, especially when it's a Christopher Nolan film at the center of it all.
As the latest trailer may not state it as a bedrock fact, Tenet's own official website still has the film as slated to push time forwards and backwards on July 17, only in theaters. But when and if that changes, you can count on CinemaBlend to break that news as it happens. In the meantime, keep track of what other movies are expected to hit theaters later this year with our 2020 release schedule.
This poll is no longer available.
Your Daily Blend of Entertainment News
Senior Movies Contributor
CinemaBlend's James Bond (expert). Also versed in Large Scale Aggressors, time travel, and Guillermo del Toro. He fights for The User.