Ford V Ferrari: 10 Behind The Scenes Facts About The Car Racing Drama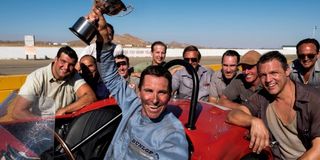 James Mangold's 2019 high-octane racing biopic Ford v Ferrari is one of the most the intense and satisfying sports movies to come out in recent memory. With plenty of white-knuckle racing sequences, an engaging and emotional plot, and dramatic corporate in-fighting, the Ken Miles and Carroll Shelby story is definitely a film no one will soon forget. Given the impressive filmmaking on display, some fans of the movie may wonder just how the production pulled off some of those technical racing scenes, recreated famed tracks around the world, and learn other impressive behind-the-scenes facts.
With Ford v Ferrari recently making its television debut on HBO, now seems like the perfect time to take a look behind the scenes of the movie and see how everything came together. It should come as no surprise that those involved with the epic biographical drama were obsessed with attention to detail and went to great lengths to make it one of best films of its kind. And although some aspects of the story were changed or left out entirely, the final product is so good you're willing to let some things slide and enjoy the show. That being said, let's dive into some behind-the-scenes facts!
Christian Bale Lost 70 Pounds In Order To Look More Like Ken Miles
Christian Bale has become just as well known for his constantly transforming physical appearance as for his acting chops, and that was a a legacy he added to with his depiction of Ken Miles in Ford v Ferrari – which had the actor drop 70 pounds in preparation for the role. And even though Bale has said that he's done with drastic weight changes after bouncing from Adam McKay's Vice to the racing biopic, his co-star Matt Damon told CBS Sunday Morning in 2019 that he was impressed by his commitment:
Despite that "monk-like" discipline that Matt Damon alluded to, the constant fluctuations in weight and muscle mass have had a toll on Christian Bale's physical state in the past, including during his work on The Machinist.
Ken Miles' Real Life Son Helped Christian Bale Prepare For The Role
In addition to putting his body through hell in order to accurately portray his real-life characters, Christian Bale also spends countless hours preparing mentally and emotionally for his roles, which was very much the case for Ford v Ferrari. One way of doing this was meeting with Ken Miles's son Peter when the actor was preparing to play the famed driver.
Speaking with LeMans.org, Peter Miles explained that he gave Christian Bale old press clippings and magazines about the late Ken Miles, and also showed the actor personal photos and audio recordings to help have a faithful portrayal of every aspect of his father's being. In addition to that, Peter Miles also met with Caitriona Balfe to provide her with material to help in her depiction of his mother, Mollie.
Christian Bale Improvised One Of The Movie's Most Touching Scenes
One of the most touching moments in Ford v Ferrari comes near the beginning of the movie when Ken Miles has his son jump into his car after winning a race. As great as that scene was, however, it wasn't in the script, as director James Mangold told Yahoo Entertainment in 2019:
So not only did Christian Bale improvise this great father-son moment, he put the cherry on the top with the lovely song to create one of the best character building moments of the entire movie.
The Production Crew Took Extraordinary Steps To Recreate The Iconic Le Mans Track
It should come as no surprise that the racing scenes were some of the most difficult shoots of the entire movie. Needing to recreate some of the most iconic tracks in the sport of racing in lieu of using the tracks themselves, the production crew had quite a task at hand, especially when it came to making mockups of the signature turns and straightaways at the famed track in Le Mans, France, as stunt coordinator Robert Nagle shared with CinemaBlend in early 2020:
Robert Nagle went on to reveal that he and his crew had to come up with ways to organize and properly choreograph the race which is supposed to take place over the course of 24 hours. With going between night and day as well as rain and shine, Nagle said it took a tremendous amount of planning to pull off.
Director James Mangold Was Obsessed With Pulling Off The Illusion Of Speed
There are few movies that create a sense of speed better than Ford v Ferrari, and you can thank director James Mangold, and his obsession with pulling off the illusion of driving a race car 200 miles per hour, for that. Sitting down with CinemaBlend in late 2019, the acclaimed director explained that it was really the technicians on set who would do everything he asked of them in order to get the right look to the race sequences, stating:
James Mangold also noted that each race took place at a different location, which required the production team to find new ways specific to those areas to recreate the sense of speed that we saw in the final product. By adding environmental obstacles and working with the sound of the engines and environments, they were able to pull that off.
James Mangold Walked The Line Between Hollywood and Reality
James Mangold is no stranger to the biopic genre having written and directed Walk the Line back in 2005. When making these movies, the director learned that to strike that perfect balance of real-life events and movie-making, he couldn't get bogged down with all the facts. While sitting down with CinemaBlend in late 2019, Mangold had this to say about the process:
James Mangold went on to explain that although he had an attention to detail when filming the movie, he also wanted to focus on the emotional history and tone of the piece in order to create a more satisfying and entertaining story.
Christian Bale Did Very Little Of His Own Driving
A lot of Christian Bale's depiction of Ken Miles in Ford v Ferrari is seen behind the wheel of a car, especially during the Le Mans 24-hour race at the end of the film. But according to producer Peter Chernin, Bale didn't do very much of the actual driving scene in the movie, as he noted THR's Producer Roundtable in 2019:
And you can't really blame a studio for not allowing one of the biggest stars of their movie getting injured or worse filming dangerous high-speed race scenes when there are more than enough stunt drivers out there willing to take on the task.
The Real Life Leo Beebe Was Nothing Like His Villainous Depiction
Even though Enzo Ferrari and his high-performance sports car brand are made out to be Ford's biggest competition in the movie, the film's actual villain is Leo Beebe, who's portrayed by a convincing Josh Lucas. According to one of the real-life Beebe's contemporaries, Ed Cloues, and his remarks to the Philadelphia Inquirer, however, that's not the man he knew. In the interview, Ed Cloues explained that while Leo Beebe was just as tough as his portrayal in Ford v Ferrari, the actual person was not the despicable character he was made out to be and that he knew how to bring the best out of people, not cut them down for his own benefit.
Josh Brolin Filmed Scenes For The Movie But Didn't Make The Final Cut
Our final bit of information about the making of Ford v Ferrari revolves around Josh Brolin's role in the film, or at least the role that was left on the cutting room floor. In November 2019, the star of Avengers: Endgame revealed that he had shot scenes with Matt Damon for the racing film, but the footage never made it into the final cut:
Who knows what could have come from having such an amazing actor lending his talents to an already stacked movie, but maybe we'll see his character in an extended cut one of these days. I mean, who doesn't want to see more Ford v Ferrari, this time with a splash of Josh Brolin?
Hopefully all of this information shed some light on everything that went into making Ford v Ferrari, and helps you all better appreciate epic racing drama. Let us know which fact was your favorite in the comments below, where you can also point out any that we missed.
Your Daily Blend of Entertainment News
Philip grew up in Louisiana (not New Orleans) before moving to St. Louis after graduating from Louisiana State University-Shreveport. When he's not writing about movies or television, Philip can be found being chased by his three kids, telling his dogs to stop yelling at the mailman, or yelling about professional wrestling to his wife. If the stars properly align, he will talk about For Love Of The Game being the best baseball movie of all time.
Your Daily Blend of Entertainment News
Thank you for signing up to CinemaBlend. You will receive a verification email shortly.
There was a problem. Please refresh the page and try again.