Why Outlander Didn't Get Graphic With Claire's Attack In Season 5 Finale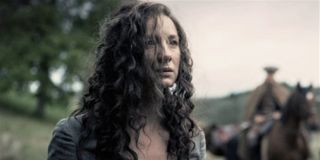 Warning! Spoilers ahead for Outlander's Season 5 finale, called "Never My Love," as well as discussions of sexual assault.
Outlander's Season 5 finale was brutal to watch. Lionel Brown discovered that it was Caitriona Balfe's Claire Fraser who was writing the medical pamphlets under the pseudonym Dr. Rawlings at the end of Season 5's penultimate episode. Angry that a woman was giving medical advice, he returned to Fraser's Ridge to kidnap and subsequently rape Claire (and apparently wasn't alone). However, the episode cut away from most of these moments, and executive producer Toni Graphia revealed the choice was made to avoid getting as graphic with Claire's attack as Outlander has in the past.
"Never My Love" opened with Claire and the rest of her extended family gathering for Thanksgiving in the 1960s. As it turned out, the dream-like moments from the future were actually part of Claire's disassociation from the traumatic events happening to her in real time, where she was being beaten and raped by several men. Cutting back to Claire's whimsically bright faux-gathering was as much for Claire's benefit as it was for the audience. In depicting her harrowing experience that way, Outlander avoided the blatant brutality and graphic nature of the scenes. Here's what Toni Graphia told Variety about the reasoning:
Initially, Toni Graphia said that the Starz series fully intended to show Claire's multiple rapes onscreen. However, the executive producer said the writing team scaled back the graphic situation, knowing that the show's attentive audience would "fill in the gap that more than one person attacked [Claire]," allowing Outlander to take a new approach to established monstrousness.
Avoiding the brutality of the sexual assault onscreen was a good call, because what was actually happening to Claire was beyond horrific and terrifying. Viewers didn't need to see it onscreen to imagine the worst (and it was really bad). And honestly, I think that Outlander has had enough rape scenes and storylines over the course of five seasons, though the moments obviously come from the source material. Maybe Season 6 will finally let up on the sexual assault stories.
With Outlander Season 5 officially over, viewers may be wondering when to expect the next season. As of right now, there's no official word yet on when Season 6 will start filming or when it'll premiere on Starz. More to that point, Sam Heughan teased that the hiatus between seasons — aptly called "Droughtlander" by fans of the show — would be even longer ahead of Season 6.
Stay tuned to CinemaBlend for updates on the show. For more on what to watch in the meantime, be sure to check out our 2020 summer TV premiere guide.
Your Daily Blend of Entertainment News