Anna Kendrick Claps Back At Those Critiquing Her Twilight Comments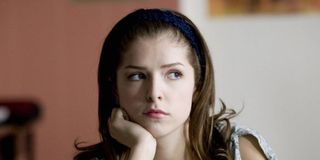 Anna Kendrick is not the first celebrity to get frustrated with eye-catching headlines. But she's also clearly had enough of them, if her recent response to an article about her less-than-perfect experience making Twilight is any indication.
In a long interview with Vanity Fair, Anna Kendrick looked back on her career highlights and lowlights. During the conversation, she touched on what life was like when she filmed Twilight. After the interview hit YouTube, some news outlets began to write up some of the highlights using some, well, eye-catching headlines to draw readers. We were among them. We wrote a story entitled "Why Anna Kendrick Says Filming The First Twilight Movie Was Like Surviving A Hostage Situation." Stories like that didn't sit super well with her so she responded to one tweet with a scathing rebuke of how the outlet framed her words:
If you've watched the interview, it's not hard to see why she'd be frustrated. She said a lot of things about Twilight, and most of the headlines pulled quotes from the relatively short portion where she complained about the weather. The quotes were accurate, at least the ones I saw, but some of the headlines, whether intentional or not, made it sound like Anna Kendrick's "miserable" experience on the Twilight set was wide-ranging. But as most of the articles themselves make clear, it was mostly just that the weather the cast and crew encountered during filming in Portland, Oregon was less than ideal.
Anna Kendrick said that spending weeks in the freezing cold made her feel like she was in a "hostage" situation -- but also made it clear that the overall experience had nothing to do with her castmates. She even said the Twilight crew experienced a kind of unique "bonding" throughout the Twilight shoot as they battled cold temperatures and rain. We used both the positive and the negatives quotes in our piece, but clearly, Kendrick is annoyed and feeling like people focused on the negative parts, at least in the way of headlines.
Anna Kendrick also said that her experience filming the sequel, in a seemingly less soggy Vancouver, was far more enjoyable. So basically, while the headline isn't technically wrong, you can tell why she's frustrated and felt the need to call it out, especially since she was probably bombarded by angry fans who felt like she may have been trashing the franchise.
Few fans of the Twilight franchise would call the series a cinematic masterpiece. Its sometimes over-the-top storylines and performances have still endeared millions of people around the world, who have no problem meme-ing it for the sake of their own amusement. Several former cast members, including Anna Kendrick, have done their own share of clowning Twilight from time to time. But they've also been careful not to completely throw the series under the bus.
Robert Pattinson recently defended the franchise, saying it's a lot weirder than fans give it credit for. And when asked about making the Twilight movies, Anna Kendrick let fans know she was grateful for the experience, saying it gave her the financial cushion to make other movies.
Even if she didn't love everything about making Twilight, she's clearly smart enough to not bite the hand that fed her. Of course, ultimately, Anna Kendrick really doesn't have anything to prove, but it's good to see her making sure her words aren't twisted out of context.
Your Daily Blend of Entertainment News
Thank you for signing up to CinemaBlend. You will receive a verification email shortly.
There was a problem. Please refresh the page and try again.