Anna Kendrick Says She Wanted A Break From Acting, But This Wasn't What She Meant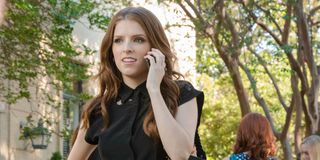 A few weeks off from "real life" sounds great in principle. If you ask Anna Kendrick, though, she'll tell you that we should all be careful what we wish for. She recently revealed that she'd been ready to take a break from acting earlier this year and, while she definitely got one, thanks to the global health crisis, it wasn't exactly what she was looking for.
Between appearing in multiple film series and standalone projects, Anna Kendrick has been one of the busiest actresses in Hollywood for a few years now. In the last two years alone, she's appeared in and executive produced two TV series as well as a handful of films. So it's understandable that she'd be feeling a bit burnt out. Still, she admits on The Late Late Show with James Corden that she wasn't prepared for exactly how and when her most recent "break" would happen:
That's actually pretty relatable for those of us who've spent the weeks in quarantine sitting at home. Sure, there's been a bit of a break from our usual day-to-day lives, but there are probably few people who would call the past couple of months relaxing.
But even though Anna Kendrick's work life slowed down, she still unwittingly became part of a historic Hollywood moment during the pandemic. Her film, Trolls World Tour, was one of the first to be switched from a theatrical release to VOD. Though it was a controversial move, it proved to be a lucrative one, and that could have longer term implications for the film industry in the future.
Anna Kendrick supported the move, from the safety of her home, on social media. She's also done some interviews for her TV series, Love Life. In other words, even though she's not on a film set, she hasn't completely unplugged from the grind.
At least she's not alone. Hollywood ceased production pretty much entirely in March as COVID-19 became a threat that was too big to ignore. It's hard to know when life will start to resemble what we were used to pre-pandemic -- but we're guessing Anna Kendrick will be ready to take a real break when it does.
Your Daily Blend of Entertainment News