The Funny Way Ron Howard Used To Punish Jurassic World Star And Daughter Bryce Dallas Howard As A Kid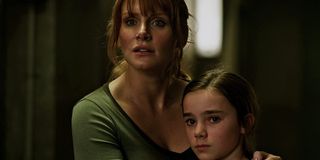 It's not uncommon in Hollywood for children to follow in the footsteps of their celebrity parents. Ron Howard took after his father Rance Howard, and now Bryce Dallas Howard is taking after Ron Howard. Of course, those relationships will be tested and recently it was revealed how Ron Howard used to punish Jurassic World star Bryce Dallas Howard as a kid. And it's thoroughly adorable and appropriate for an industry family.
Father's Day is approaching. So appropriately, Bryce Dallas Howard and Ron Howard recently spoke a bit about fatherhood with CBS News. In the interview, Bryce Dallas Howard recalled how being on set was important to her. And when she was grounded, those privileges were revoked. Here's what she said:
That's a unique Hollywood way of parenting, and one that's a great anecdote for Ron Howard's family. As an actress, Bryce Dallas Howard would make uncredited appearances in some of her father's movies, including Parenthood, Apollo 13, and A Beautiful Mind, before starring in M. Night Shyamalan's The Village. Bryce Dallas Howard come a long way since then, starring in major franchises, including Spider-Man 3, Terminator Salvation, and the Jurassic World trilogy. And she's confirmed to be to be returning to the franchise in the threequel Jurassic World: Dominion.
Even though she's working on the third movie, Bryce Dallas Howard still loves the Jurassic World franchise as much as she did when she first started, saying she wants more after all is said and done. And, if Jurassic World: Dominion is successful, producer Frank Marshall thinks the franchise could continue.
While Bryce Dallas Howard is mostly known for acting, she's also followed her father Ron Howard into directing and has done a fair amount of directorial work, too, including an episode of The Mandalorian. And, who better to get sage advice from than an Academy Award winning director Ron Howard?
Turns out, Ron Howard had plenty of advice to give Bryce Dallas Howard about directing a Star Wars story. He, of course, directed Solo: A Star Wars Story after the departure of Phil Lord and Christopher Miller, and seemed to have learned his fair share of what it's like to be a part of the Star Wars movie making experience.
While Bryce Dallas Howard has primarily directed shorts, she feels like she's ready to take the next step and direct a full-length feature film. However, she also noted the major time commitment and that she wants it to be the right project. I'm sure whatever that turns out to be, Ron Howard will have plenty of advice to give.
Your Daily Blend of Entertainment News
Thank you for signing up to CinemaBlend. You will receive a verification email shortly.
There was a problem. Please refresh the page and try again.