The Internet's Favorite Boyfriend Keanu Reeves Is Now Offering A Date To Lucky Bidder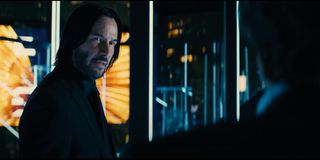 There are a few indisputable realities in life. They are death, taxes, and that Keanu Reeves is awesome. While there is usually some degree of backlash against any celebrity that achieves the degree of popularity, that the John Wick star has found, that has yet to happen to him. We'd all love to meet The One. He seems like a really cool guy that would be fun to hang out with, and now you can, for 15-minutes, if you have the money.
Camp Rainbow Gold is an Idaho based summer camp designed for kids suffering from cancer and their families. While this year's events will be virtual rather than taking place outdoors, the camp is moving forward, but to give a collection of great experiences to a lot of different kids in need costs money, and so the camp is currently running an online auction. There are a lot of items up for bid, but the most exciting, certainly if you're a Keanu Reeves fan, is a 15-minute one-on-one Zoom call with the man himself.
And this isn't one of those special events that you'll have to wait forever for. You'll need to be available sometime the week of July 6 for the call, but that means the event won't be overlooked or forgotten about.
The bidding started at $3,000 but has continually gone up at $100 a pop and as of this writing sits at $18,700, so at this point you're basically making a decision between talking to Keanu Reeves for 15-minutes or buying a car, or possibly making a down payment on a house. Quick note, if you currently need to buy a car or make a down payment on a house, please don't decide to meet Keanu Reeves instead, it's probably not the best financial decision. Still, if you have like $20K just burning a hole in your pocket not doing anything, there are probably worse ways to spend it.
My favorite part of the auction has to be that the auction item has a "market value" of $10,000, which means that apparently Keanu Reeves simply existing is worth $40,000 an hour. Checks out.
The auction runs through June 22, so you've got some time to scrape up the cash. While the auction listing specifies one-on-one, I'm sure if you needed to pool your resources with some friends you could probably all be on the Zoom call together.
What would you want to ask Keanu Reeves if you had the chance? Curious about the future of John Wick or The Matrix? Want to tell him how much you've been a fan of Bill & Ted since the '80s? Maybe just find out what he's been up to while in quarantine? There's so much a lot of us would probably like to say, squeezing it all into 15 minutes would be tough.
Content Producer/Theme Park Beat
CinemaBlend's resident theme park junkie and amateur Disney historian. Armchair Imagineer. Epcot Stan. Future Club 33 Member.
Your Daily Blend of Entertainment News
Thank you for signing up to CinemaBlend. You will receive a verification email shortly.
There was a problem. Please refresh the page and try again.