Disney Park Reveals Changes Made For Safety During Re-Open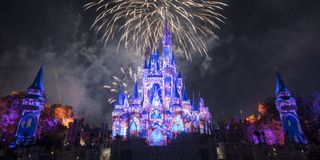 Being a part of the leadership team behind Disney Parks is not in an enviable position right now. There have been a number of factors to consider as they try to plan when they can safely reopen Disney World, Disneyland, and their other theme parks around the world. Now, as they announce plans to bring guests back, they are also offering new rules and guidelines too.
Anyone who's visited a Disney park knows that one of the things you can always count on is long lines and a lot of other people. It's probably not realistic to expect that to completely change, but on June 19 Disney Parks announced the creation of the Disney Park Pass System for Disney World. They are creating this measure in accordance with government and health authorities with the hopes of promoting physical distancing within their parks when they reopen.
The Park Pass System is an online reservation system, and it will be the only way to buy a ticket for the foreseeable future. This will allow Disney to limit the number of guests that are in their parks at a given time, which will in turn make it easier for them to spread out a bit while they're there.
It's a big change for everyone involved – the park staff and the guests included. From now on you can't just show up at Magic Kingdom, Animal Kingdom, or EPCOT on the day you want to visit and expect to be let in. Prospective visitors will have to create an account and reserve their spot ahead of time.
Guests will only be able to reserve a spot at one park per day; in other words, no more park hopping. This will be true regardless of if you're buying a single ticket or you're an Annual Pass holder. Disney also said that by June 28 guests will be able to use the online system to make reservations through 2021.
As of right now, Disney is set to open Magic Kingdom and Animal Kingdom on July 11, followed by EPCOT and Disney Hollywood Studios on July 15. This is just one of many steps that Disney is taking to try to encourage park safety during their phased reopening. It remains to be seen how many people will be willing to visit Disney Parks in the immediate future, as COVID-19 continues to be a threat. Disneyland Anaheim has faced some backlash for the decision to reopen in July – a petition is currently circulating that asks for the opening to be delayed.
Are you ready to head back to the most magical place on Earth? How do you think the new physical distancing guidelines will affect the Disney Park experience? Let us know in the comments!
Your Daily Blend of Entertainment News