Not Everyone Is Super Happy Disneyland Is Opening So Soon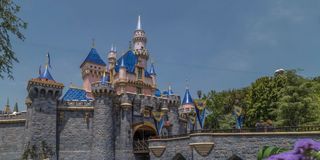 Earlier this month, Disneyland announced plans to reopen this summer following its third closure ever in the wake of the COVID-19 pandemic. The news was met with a bit of surprise because it was a lot sooner than many of us expected. Some people aren't happy about the park's decision and, now that we're less than a month out from the expected opening date, they're expressing their concerns in an attempt to convince Disney to delay the opening.
A Change.org petition, started by a user named We Are Anonymous, condemns Disney's decision to open the theme park. It cites the fact that there are more COVID-19 cases now than there were when the park closed in March and states that cases are continuing to rise. The petition writers also reference public health officials' concerns about a second wave of the pandemic being worse than the first. Given these factors, they argue, "now is not the time" to reopen Disneyland and say that the decision to do so means they're putting their financial concerns over the health and safety of visitors.
There's no denying that Disney, like many other companies, has faced some huge financial setbacks this year as a result of COVID-19. Back in March, we learned that Disney parks were losing millions of dollars a day, and it's unlikely that's gotten any better in the months since. When Anaheim announced Disneyland's plans to reopen, they included a statement from the city's mayor, Harry Sidhu, which expressed confidence that the park would find a way to do so safely.
Anaheim Disneyland's reopening will involve a phased approach. They'll start with the Downtown Disney district on July 9 and then expand to both Disneyland and California Adventure on July 17 before opening resorts on July 23. Shanghai Disneyland and Hong Kong Disneyland have already been open for a couple of weeks, and both those parks have instituted some new safety rules that Anaheim Disneyland may also adopt.
The park has laid out the health measures they'll be employing to try and minimize the spread of COVID-19 within the park. Those include reduced capacity, temperature checks, and hand sanitizing stations throughout the park. They've even enlisted some iconic superheroes to help stress the importance of these safety measures.
The parks' leadership team also seems to be taking extra precautions by cancelling larger scale events like an annual Halloween event at Disney World. It's not clear yet whether Disneyland will follow suit with similar events or whether they will adjust their plans if COVID-19 cases continue to rise in the coming weeks.
At the time this article was written, the petition requesting that Disneyland's reopening be delayed had nearly 43,000 petitions, close to its goal of 50,000. Disney has not responded to the petition or made any indication that plans will change at this time.
Your Daily Blend of Entertainment News
Thank you for signing up to CinemaBlend. You will receive a verification email shortly.
There was a problem. Please refresh the page and try again.