11 Most Memorable James Bond Pre-Title Openings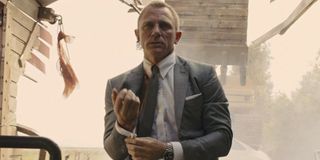 The pre-title opening of any James Bond film is a moment that not only sets the tone for the story that follows, but is also a potential showcase for some spectacular stunts and action. 007's adventures have been no stranger to the exciting and the stunning, but some of the most memorable moments have come from the action before the iconic title sequences have kicked in.
Eleven pre-title openings in particular represent the best that the Bond franchise has offered the world in that area of entertainment, and now seems like a perfect time to discuss that very subject. As No Time To Die is supposedly breaking the record for longest pre-title sequence, as well as potentially setting up a 007 bombshell to end Daniel Craig's tenure on a high note, these are the moments the 25th James Bond film's opening will have to compete with.
From Russia With Love (1963)
When your franchise is in its early days of operation, even the slightest fake-out can lead to the greatest reaction. From Russia With Love marked the first 007 pre-titles sequence in history, and it's an opening that still holds up against the entire history of James Bond's cinematic adventures. As we see Robert Shaw's Red Grant hunting Sean Connery's Bond through a SPECTRE training course, it's hard to believe that this memorable baddie actually killed James Bond in the cold open. But watching him strangle a fellow agent, who was merely disguised as Bond, still packs a punch when seeing it take place; and 007's fate in the film to follow doesn't feel as secure as usual.
Thunderball (1965)
Several times in the history of the James Bond franchise, the cold open entails someone's death or funeral; with Bond being "killed" several times himself. Thunderball uses a funeral for one Col. Jacques Bouvar as the grist for its adventure mill, as Bond attends the proceedings to bury this particular foe in this pre-credits sequence. However, not only is Col. Bouvar masquerading as his own widow, he gets into one hell of a fist fight with James Bond when he's revealed to still be alive. Overturning clocks and cabinets, and throwing chairs all over the place, it's a knock-down, drag-out fight. Throwing in a jetpack escape play, and a particularly inventive countermeasure from Bond's Aston Martin DB5, only makes this opener all the more exhilarating.
On Her Majesty's Secret Service (1969)
Imagine if after the first seven years of the Marvel Cinematic Universe, the studio had to introduce a new Iron Man. That's basically what you get with 1969's On Her Majesty's Secret Service, as after almost a decade of Sean Connery playing the role, it would be up to young George Lazenby to take over the already popular 007 mantle. We don't get to see his face for most of the pre-title sequence, but eventually Lazenby vanquishes some foes, while supposedly losing a potential love interest in the process. George Lazenby introduces himself to the audience with a pithy one-liner: "This never happened to the other feller." Little did the world know that it wouldn't be the most groundbreaking first in that particular movie.
Diamonds Are Forever (1971)
Diamonds Are Forever packs one hell of a punch in its pre-titles sequence, as Sean Connery return as a 007 on an avenging rampage after that shocking death that took place at the end of On Her Majesty's Secret Service. If there was ever a moment that proved James Bond will literally kick anyone's ass, this roundup of victims is a prime example of that very concept. It doesn't matter if you're a sun-bathing lady sitting poolside or a man at a gambling table in some corner of the world: if you're standing in the way of Bond and his objective, especially when that objective happens to be named Ernst Stavro Blofeld, you'd best provide the path of least resistance.
The Man With The Golden Gun (1974)
A lot of iconic James Bond pre-title openings focus on Bond himself mixing it up, and that's pretty much to be expected. But sometimes, like in the case of The Man with the Golden Gun's 1974 stunner, we get to see the villain in action for a change. Introducing Christopher Lee's Francisco Scaramanga, as he encourages his in-house manservant Nick Nack (Hervé Villechaize) to set up random contenders in a game of life or death, we see him fight his way through a funhouse of death. The result sets up a formidable nemesis, as Lee eventually dismembers a wax statue of Roger Moore, setting his crosshairs on 007 for the entire movie ahead.
For Your Eyes Only (1981)
It's hard to say goodbye to a character as important to the James Bond franchise as Blofeld ever was. In 1981's For Your Eyes Only, the 007 series decided to do so, with the added obstacle of never being able to explicitly name the character in its pre-title action. What's even more memorable about this opening is the fact that it's one of the most serious moments in Moore's time as James Bond, containing a direct callback to the tragic events of On Her Majesty's Secret Service. Once again, Bond gets his revenge for his fallen wife, invoking the desired continuity, despite requiring some intense legal sidestepping as a result of a long standing conflict in the series' intellectual property.
The Living Daylights (1987)
Timothy Dalton's short, but memorable stint as Bond had perhaps one of the most exciting openings on record, as The Living Daylights marked another crucial transition in 007 history. During a paintball exercise on Gibraltar, we see actors who look like the previous incarnations of James Bond eliminated one by one. It doesn't take long before the action turns deadly, and those eliminations become all too real at the hands of an enemy agent. Our new 007 springs into action and takes out the threat, only to land safely on the deck of a ship with a beautiful female passenger. Already proving himself deadly and debonair, Dalton's tenure was off to a memorable running start.
Tomorrow Never Dies (1997)
For someone who never felt they got the hang of playing James Bond, Pierce Brosnan deserves some more credit than he gives himself. Brosnan's Bond had some of the most exciting openings, as seen in the pre-titles action from 1997's Tomorrow Never Dies, which saw the famed agent disrupting "a terrorist supermarket." Leave it to 007 himself to take matters into his own hands, by stealing a fighter jet carrying some dangerous nuclear weapons. Some hand-to-hand combat, and a brush with death involving a backseat driver, make this one of the most tense openings to a James Bond film in more recent times.
The World Is Not Enough (1999)
If you've always wanted to know how long the most lengthy James Bond pre-title sequence is, The World Is Not Enough has that answer at the ready: 14 minutes. The pre-titles opening sees 007 retrieving some stolen money, which eventually leads to a sneak attack on MI6 and a boat chase for the ages. Throughout the entire lengthy sequence, a foundation is built for the film's overall story, and we even see James Bond do something that seemed to rarely happen in his franchise: he gets substantially injured after falling from an exploding hot air balloon.
Casino Royale (2006)
Starting off a new Bond is always a potential recipe for a memorable moment. Showing off a new actor in the role of James Bond is the way for this decades-long franchise to adopt a new attitude and a new style to the action that started so long ago. With that in mind, it should be noted that Casino Royale's pre-titles opening is, quite simply, the triple crown of Bond introductions. Seeing James earn his 00-status through those two important kills in Casino Royale's cold open, the black and white effect makes an impression that we're still seeing Bond earning his stripes. As Craig shoots down the barrel of his first introduction as the character, crimson blood overtakes the frame and Chris Cornell's theme song completes the ritual that would see the character redefined for modern audiences.
Skyfall (2012)
The relationship between James Bond and M, especially in the Judi Dench era of the character, is one that's very similar to that of a parent and a child. Sometimes hard choices must be made, and the fallout of those decisions make for some tension at the office. Perhaps one of the hardest choices occurs in 2012's Skyfall, where M ordered Moneypenny (Naomie Harris) to shoot Bond in the name of the mission. Throughout the rest of Sam Mendes' first directing gig in the world of 007, that decision resonates through the plot. Skyfall's story always keeps this moment in the back of its mind, whether it's through Bond's own acts of rebellion or through the actions of the film's overall villain, Silva (Javier Bardem). It also makes the overall ending of that film, and the fate of Judi Dench's character, all the more poignant, never failing to draw an extra layer of context into the film's happenings.
Whatever events open the action for No Time To Die this November, those moments will be seen as a part of the long legacy of James Bond's habit of teasing the action ahead before the credits. November 20 is the day we'll find out if the 25th James Bond film opens with a punch worthy to be added to this collection, as well as whether that opening sequence record will be challenged or remain undefeated.
Your Daily Blend of Entertainment News
Senior Movies Contributor
CinemaBlend's James Bond (expert). Also versed in Large Scale Aggressors, time travel, and Guillermo del Toro. He fights for The User.