7 Things Bond's 25th Movie No Time To Die Is Doing Very Differently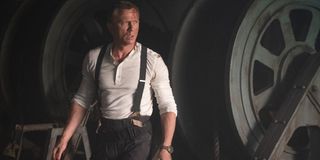 When a movie promises to "change everything" about a storied franchise that's been operating for several decades and counting, one has to wonder exactly how those changes are going to show up. No Time To Die is making that exact claim in its advertising, and while there are some hints as to what some of those potential twists and turns may be, there are also seven very concrete things the movie is doing very differently.
A lot of history is riding on No Time To Die, as 007's final outing in the skin of Daniel Craig had implemented some uber modern and stylish choices to make director Cary Joji Fukunaga's time in the director's chair memorable. Shaken or stirred, you may want to make a martini in order to toast to the new developments that are about to change Bond history.
No Time To Die Is The First Craig-Led Bond Movie Without Sony Pictures Co-Distribution
For the entire Daniel Craig run of James Bond movies so far, it's been expected that along with the classic MGM lion that roars on to the screen, fans would see Columbia Pictures' stoic female logo right alongside it. That's because Sony Pictures had a co-distribution deal from Casino Royale to Spectre. However, despite some impressive pitching, that deal was never renewed, and a new partner has entered the game for No Time To Die. Reported as a "one-time" deal, MGM is distributing the 25th 007 adventure with Universal as its co-distribution partner. So if you were one of the fans scratching your head when the first trailer showed that familiar globe, now you know why.
No Time To Die May Have The Longest Opening Sequence In Bond History
When opening the action of a James Bond movie, you always need to have a cold open that hooks the audience into the game. Modern Bond films have kept this precedent up with some remarkable results, with No Time To Die supposedly upping the game one more time, and in a crucial way. This isn't 100% confirmed just yet, but from what advanced word is telling us, the pre-title sequence to this latest film may be the longest one in 007 history. If the rumored 20 minutes of introduction turn out to be accurate, this means The World Is Not Enough's 14 minute cold open will no longer hold the record.
Bond Girls Are Now, More Than Ever, Bond Women
Historically, female leads in a James Bond film have been known as "Bond Girls." For a while, that term stuck, despite the evolution of female leads present in the James Bond franchise, and it was something that eventually stuck out as a sign of how the franchise could be outdated. Apparently, that's officially in the past now, as reports from the No Time To Die set have alleged that this terminology has been dumped in favor of the much more appropriate "Bond Women." Seeing how female leads like Naomie Harris' variant of Moneypenny have pushed the boundaries for women in the 007 universe, the timing couldn't be any more appropriate.
Phoebe Waller-Bridge Is The First Credited Female Writer On A Bond Movie Since From Russia With Love
The fact that "Bond Women" can now call themselves as such is, supposedly, a change that stemmed from another No Time To Die first. Thanks to Daniel Craig's own talent scouting eye, Fleabag and Killing Eve scribe Phoebe Waller-Bridge was brought on to spice up the content of this 25th Bond film. Along with that hiring comes another piece of history, as Waller-Bridge is the first credited female writer since Joanna Harwood. Ms. Harwood's skills were used in both 1962's Dr. No, as well as on 1963's From Russia With Love; but up to now, she was the only female writer in 007's film canon.
The Bond Series Has Its Youngest Title Singer With Billie Eilish
James Bond theme songs are another one of those components that rank among the hallmarks of the series. Whether the song can appropriately fit the title of the film into its name or not, it's almost always one of the first big signs fans have as to how the latest entry is going to be toned. At 18 years old, Billie Eilish landed a pretty big milestone for No Time To Die to call its own, as her hiring to co-write and sing the film's title track has made her the youngest singer to do so. With a fittingly dark and somber tune named after the movie itself, Eilish's song seems to fit with the story Daniel Craig's Bond movies have been telling so far.
Dr. Madeleine Swann Is Bond's First Multi-Film Relationship In A Long Time
Much as James Bond used to chase after the formerly named "Bond Girls" on a regular basis, his personal endeavors have been tempered with more of a tragic and lonely air. Even more surprising was the fact that, after he had his heart broken so tragically by Vesper Lynd (Eva Green), Bond is once again trying to let love lead the way, as Dr. Madeleine Swann (Lea Seydoux) is the first Bond Woman to return in quite some time. Once again, thanks to Dr. No and From Russia With Love, we got a taste of what 007's long term relationships would look like, as he was spotted encountering Sylvia Trench (Eunice Gayson) in the early moments of Sean Connery's first two outings.
No Time To Die Is The First Bond Film To Be Shot On IMAX Cameras
The last and perhaps most technical new twist to the James Bond world is something that lines up with recent leaps in how the series has been seen in theaters. Since 2012's Skyfall introduced 007 to IMAX theaters, specially remastered versions of his last two installments were sent to the large format giant's screens. With No Time To Die, cinematographer Linus Sandgren is about to take things to the next level, as not only has this film been officially confirmed to be filmed partially on IMAX cameras, those sequences are being committed to IMAX film as well.
While the wait is a little longer to see all of these changes take effect, just knowing that No Time To Die is pulling out all the stops for Daniel Craig's big sendoff is a comfort. As the longest running actor in the role, Craig's career as the beloved super spy has kicked off the start of a new era of action, and these factors will allow for further innovation attached to the name of Bond, James Bond.
No Time To Die will break out the gun barrel for one and all yet again, on November 25.
Senior Movies Contributor
CinemaBlend's James Bond (expert). Also versed in Large Scale Aggressors, time travel, and Guillermo del Toro. He fights for The User.
Your Daily Blend of Entertainment News
Thank you for signing up to CinemaBlend. You will receive a verification email shortly.
There was a problem. Please refresh the page and try again.