No Time To Die Lands A New Release Date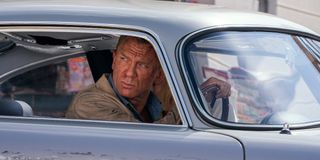 Hollywood still has a ways to go before it's back to normal (whatever that even means anymore). But there are some signs that the film industry is making plans for the future. For example, studios are beginning to reschedule their release dates -- which is good news for fans of franchises like James Bond, since we've finally gotten a new official release date for No Time To Die.
The latest film in the Bond franchise was originally scheduled to hit theaters in April 2020. Then, as we all know, COVID-19 showed up. No Time To Die was one of the first films, along with Mulan and Black Widow, to have its release affected by the pandemic. While some studios opted to shift movies from a theatrical release to a digital one, Universal Pictures made the call to delay its release instead. At first, it was scheduled for release on November 25, 2020. But in a recent tweet, the franchise announced a new release date, one that's actually five days earlier than what was on the books:
This may be the first news we've had of a release date being moved up in what feels like a long time. It's a hopeful sign -- and, at this point, we'll take anything we can get. It's also got to be a bit of a relief for the No Time To Die cast and crew, who all will have waited a whole year for the movie to hit theaters by the time things are said and done. The movie was originally scheduled for a November 2019 release, but was pushed back twice in pre-COVID-19 days.
The news of the latest Bond movie's release date is one of many signs that Hollywood is trying to figure out how to get back to business. Recently, there have been rumblings that multiplexes could be ready to reopen as early as July, which would be the first big step in getting us to go back to the movies.
Over the past couple of weeks, there's been word that some films that paused production will be resuming work. There has also been a slew of other announcements regarding movie release dates being shifted around, into 2021 and even later.
Of course, there are still a lot of unknowns, and nothing is set in stone. We can't really anticipate the course the pandemic will take in the long run, and there could be more delays in the future. If nothing else, hearing about the not-all-that-far-in-the-future plans for movies we thought we'd have already seen at this point offers up a little bit of hope, though.
Keep an eye on CinemaBlend's 2020 Movie Release Guide to make sure you're up to date on what's coming out when.
Your Daily Blend of Entertainment News