10 Quintessential Black-Led Movies All Film Fans Need To Watch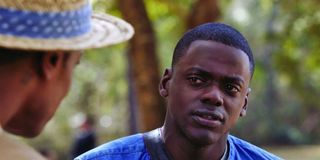 What exactly is a "black movie"? I ask this question because I see it all the time in various articles and write-ups. In fact, if you type "Black movies" up in Google, you'll find multiple lists on that very topic. And I get it. When you hear the term "black movies," it doesn't necessarily mean movies for black people, by black people (though, it may). It really just means stories that predominantly star black characters, and it may (if it's good) even deal with issues uniquely concerning African-Americans. Now, movies of this nature could be happy, or sad. Though, if I'm being completely honest, they're usually sad. Especially concerning today's times.
Now, this is not a list of movies that I think all black people should watch (I've seen those lists, too). So you won't find movies like The Wiz or Friday on here—Though, I do love those movies, too. Instead, this is a list of black-led films that I think all movie fans should watch, no matter the race or creed. Every single one of them is a landmark film in cinema, and the fact that they're so ethnically unique just makes them all the better. How many of these black-led movies have you already watched?
Black Panther
It might be weird to start this list off with a COMIC BOOK MOVIE, but when said comic book movie is the first ever to be nominated for Best Picture, well, then I think it deserves a pass. Starring Chadwick Boseman as the titular character and helmed by Fruitvale Station/Creed director, Ryan Coogler, Black Panther wasn't just any "comic book movie." it was a phenomenon.
This might be because—say it with me, folks—representation matters! With a cast comprised mainly of black actors, and with a budget of $200 million, Disney was putting its money where its mouth (its mouse?) was. It doesn't hurt that the film is a lot more heady than most movies in the genre, as it dealt with concepts such as colonization and inner city struggles. A landmark film that everybody should—and probably already has—see(n).
Guess Who's Coming to Dinner
Does Guess Who's Coming to Dinner fully work in 2020? Hmm, maybe, maybe not. It's definitely not going to have you discussing it endlessly like you did with Jordan Peele's, Get Out (even though Guess Who's Coming to Dinner partly inspired that movie). It's also kind of cheesy. But does it make for an interesting time capsule of what tolerance would have looked like back in the very contentious 1960's when it was released? Well, yeah, sure. I think it does.
It stars Sidney Poitier as a physician who wants to marry a young white woman (Katharine Houghton) from a rich Liberal family. The parents, played by Spencer Tracy and Katherine Hepburn, never expected their daughter to come home with a black man, but the film gets into how such a union doesn't seem right to certain people. But, being a comedy, things turn out all right in the end. Still, interracial marriage is something that, even today, can get deeply frowned upon in certain communities. And while Guess Who's Coming to Dinner definitely wouldn't be considered a "black movie," it does still deal with concepts that black people would be very familiar with.
Just don't watch the race-flipped remake, Guess Who starring Ashton Kutcher and Bernie Mac. It's, uh, not as good.
Get Out
I mean, I already mentioned Get Out, so…Jordan Peele's debut has so much to say in its meager 1 hour and 44 minute runtime that you're going to have to watch it at least two more times just to catch everything. Daniel Kaluuya plays a black photographer who is about to meet his white girlfriend's Liberal parents. Everything seems great at first. That is until his girlfriend's mom invites him down to "the sunken place." That's when he finds himself in a world of trouble.
Get Out is a horror film, but it was nominated for Best Picture. That's because it's so much more than just a horror movie. It's a commentary on race in America, and what it means to be black (and white, for that matter, in some regards). It's a powerful film, and even a funny one at times. A modern day classic.
Lilies of the Field
Let's get back to Sidney Poitier. The film that won Mr. Poitier his Academy Award (making him the first black actor to win in a competitive category), Lilies of the Field, based on the excellent novel of the same name, is about a skilled wanderer (played by Poitier) who stumbles upon some German nuns and helps them build a chapel. That's pretty much it, really.
But the film is told very cleanly, and it's at times a very pretty film. Directed by Ralph Nelson, Poitier deserved his Best Actor Oscar as Homer Smith, so it's worth watching just for his performance alone.
Uptown Saturday Night
Okay, we might as well just stick with Poitier since we're already here. Uptown Saturday Night is actually the first in a trilogy, the other two being Let's Do it Again, and A Piece of the Action. Honestly, I think you should watch all three movies since they're all really good, even though the two leads—Poitier and (gulp) Bill Cosby—have different names in each one. But if you only watch one, watch this one.
It's about two friends who are held up by robbers. But when one of the friends (Poitier) realizes that he has a winning lottery ticket in the wallet that was stolen, the two friends try to get the wallet back themselves. Fun times ensue. This is a great movie full of a lot of laughs, and it's just great to see two excellent actors (if you can separate the act from the actor when it comes to Cosby, which I know is difficult), then you're bound to have a good time.
12 Years a Slave
Based on a true story about the life of Solomon Northup, 12 Years a Slave, starring Chiwetel Ejiofor and Lupita Nyong'o, who acted her ass off for that Oscar, is a depressing movie that will not elicit a single smile out of you. You will also likely cry. But it's an important film and well worth its Best Picture win.
Directed by Steve McQueen (No, not that Steve McQueen)12 Years a Slave is a harrowing film that delves into the horrors of slavery, and it goes deep into the torture that black people (even free black people) had to go through in the history of this nation. Have a Kleenex handy.
Moonlight
Another Oscar winner, director Barry Jenkins' masterpiece, Moonlight, is about three pivotal times in a young black man's life—one as a child, one as a teenager, and one as an adult. Each phase of his life informs his ultimate future.
But Moonlight is special since it deals with homosexuality in a way that many other films don't. Especially since it's set within the black community, which sometimes, unfortunately, views homosexuality very negatively as a culture. It's a beautiful movie, and I'm happy (sorry, not sorry) that it beat La La Land for Best Picture.
Sweet Sweetback's Baadasssss Song
Is Melvin Van Peebles' Sweet Sweetback's Baadasssss Song a classy film like Moonlight? Hell to the no. But it doesn't make it any less important. The film that pretty much created the blaxploitation genre, Sweet Sweetback's is just a culturally important movie in general. If you're a fan of cinema at all, then you've probably already seen it.
In a nutshell, Peebles plays a dude with big wang who gets hassled by the police and then gets some sweet payback. There's more to it, but that's about the size of it. So, if you like Tarantino, then you'll probably like this movie. And the 2003 film Baadasssss!, directed by Melvin's son, Mario, is also pretty good. Watch both of them.
Fences
Based on the great August Wilson play of the same name, Fences finds Denzel Washington (who also directed) and Viola Davis living out their lives in 1950's in Pittsburgh. Denzel Washington plays a garbage man who was born too late, since he was also an excellent baseball player but was too old by the time the major leagues started accepting black players. This made him bitter, and it washes over his entire family.
It's just a great overall story, and Denzel Washington handles the material well for the Pulitzer Prize winning play. Fantastic acting + fantastic storytelling=a fantastic movie. And that ending always gets me.
Hidden Figures
Lastly, how about an important, feel-good movie? The Academy Award nominated Hidden Figures is the true story about three black women who helped NASA in a major way but didn't really get the credit for it until now. Starring Taraji P. Henson, Octavia Spencer, and Janelle Monae as real life mathematicians, Katherine Johnson, Dorothy Vaughan, and NASA engineer, Mary Jackson, respectively, Hidden Figures is the kind of movie that you show your kids and say, see? African Americans have done much more for this country than you ever even knew.
But it's rarely a preachy film, and it's entirely safe for people of all ages. It's the kind of film that you can show in school knowing that the students will enjoy it and learn something at the same time. In other words, it's edutainment done right.
There are a lot of other black-led films to choose from, but I think these are a good starting point. If there are any other movies you think should have been mentioned here, then please leave them in the comments section below.
Your Daily Blend of Entertainment News
Rich is a Jersey boy, through and through. He graduated from Rutgers University (Go, R.U.!), and thinks the Garden State is the best state in the country. That said, he'll take Chicago Deep Dish pizza over a New York slice any day of the week. Don't hate. When he's not watching his two kids, he's usually working on a novel, watching vintage movies, or reading some obscure book.