Jackass Star Steve-O Got His Ear Ripped By UFC's Jon Jones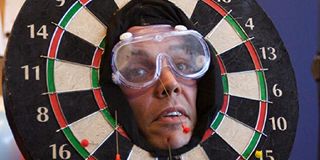 You may be used to seeing Jackass star Steve-O letting himself be abused in the name of entertainment, as for the past two decades that MTV property's legacy has been built on insane stunts and the injuries that came as a result. But this latest misadventure, courtesy of UFC fighter Jon Jones, might still be a bit much to watch, as Steve-O had his ear ripped open by Mr. Jones and his trusty hammer.
If you're sensitive to bloody injuries, you've probably stopped reading by now, as this is a story about Jackass. But just in case, consider this your final warning to look away. Otherwise, proceed to watch the before and after videos of this particular incident, courtesy of Jones' Twitter feed, below:
It should be noted that this Jackass style moment was shown after a chain of social media posts showed Steve-O and Jon Jones hanging out and doing skate tricks, after taking part in some local charity handing out supplies to those in need. So after doing some good for the community, how else is one supposed to celebrate but to kick back, do some sick skateboard jumps and aid Steve-O in his continued quest to acquire the perfect case of cauliflower ear?
That's right, in another video released to the internet, Jones explains that Steve-O's big play here is to get that particular injury he's been chasing for some time. Previously, he's tried to accomplish this feat with the help of other MMA fighters like Chuck Liddell, Ronda Rousey and Jorge Masvidal. We're not so sure about the results of this particular attempt, but reading back that history of ear injuries and the participants involved, Jon Jones is a pretty on brand partner in crime for Steve-O to enlist.
What's interesting about this video is that we never see the actual moment where Steve-O's ear gets hammered, just the moments before and after it happens. That's not speculation that the moment was faked, but rather that if next year's Jackass legacyquel is still on the cards, we might actually be seeing the outtakes from a scene that'll be included in the proposed 2021 return of Johnny Knoxville, Steve-O and the rest of the crew. I mean, c'mon… did you really think the health crisis would keep the Jackass folks from potentially producing a movie?
This is all speculation, of course, as the only facts we have in front of us indicate are that Steve-O suffered a bloody ear injury on purpose and Jon Jones' hammer was the cause. It's a pretty open and shut case if you're a detective; but if you're an entertainment journalist, there are obviously so many other questions that form as a result. At the very least, there was some charity to be had amidst the fun and games involving bodily harm between the two participants.
Jackass 4 is currently slated for a July 2, 2021 release date, but should this change, you can read further updates here on CinemaBlend. And Steve-O, if you happen to be reading this, here's hoping you finally got that cauliflower ear you've been chasing after for so long. Godspeed, you mad dreamer you.
Senior Movies Contributor
CinemaBlend's James Bond (expert). Also versed in Large Scale Aggressors, time travel, and Guillermo del Toro. He fights for The User.
Your Daily Blend of Entertainment News
Thank you for signing up to CinemaBlend. You will receive a verification email shortly.
There was a problem. Please refresh the page and try again.