All The National Lampoon's Vacation Movies, Ranked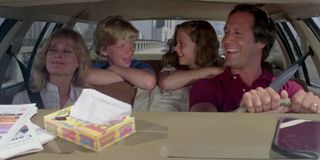 Growing up and still to this day, National Lampoon's Vacation, Christmas Vacation, and the rest of the movies in the franchise have a very special place in my heart. Like anyone with access to cable or a box of old VHS tapes at your great-grandmother's house, my older brother and I would watch these movies like it was nobody's business. I've lost count of how many times I've watched Clark Griswold rope his family into some far-fetched plan and have it blow up in his face. From holding security guards hostage to losing all his money in Vegas, I've seen it.
Most of these movies (keyword "most") are great comedies with enough high jinks, drama, and side-splitting laughs to make even the cruelest of bosses and their snooty wives jump with joy, but which is the best. Well, I have come up with a ranking of all five Vacation movies and have ranked them from 2015's Vacation to best. So, without wasting any more time, let's get on that holiday road…
5. Vacation
There isn't much that can be said about the 2015 reboot of the beloved franchise that hasn't already been said before. Unlike previous entries that had Clark Griswold at the center of the action, Vacation instead gave audiences perhaps the worst of the five Rusty Griswold's with Ed Helms' depiction of the ever-changing character.
Sure, the brief appearances by Chevy Chase and Beverly D'Angelo reprising Clark and Ellen Griswold make for a nice moment, but it lacks the spirit that made the previous four movies so enjoyable. Despite the film's shortcomings, Chris Hemsworth's performance as Audrey's anchorman husband Stone Crandall is one of the bright spots of a movie that is otherwise pretty forgettable.
4. National Lampoon's European Vacation
National Lampoon's European Vacation is one of those movies that I tend to forget about until I'm flipping channels on a random Saturday afternoon and catch it just in time for the classic "Hey Kids, there's Big Ben, and there's Parliament" roundabout scene (it never fails). This isn't to say it's a bad movie in any regard, it's just that the movie is often overshadowed by the classics that came before and after its 1985 release.
One thing of note about European Vacation is the changed spelling of the Griswold family. For some reason the name is spelled "Griswald" here, which was the first and only time the spelling was changed in the franchise. Also, Cousin Eddie (Randy Quaid) is nowhere to be seen anywhere in the movie, which ultimately knocks it down a peg. I mean, Eddie is probably one of the best parts of the franchise just as long as you don't give him his own movie.
3. Vegas Vacation
Vegas Vacation (the first entry in the series to not feature "National Lampoon's" in the title) contains one of the most childish yet timeless jokes that my brothers and I still use more than 20 years after we first saw the movie back in 1997. You can't tell me that you didn't fall on the floor laughing when Cousin Eddie asks for where he can get some "dam bait."
In addition to plenty of Cousin Eddie action (the cheap casino comes to mind), Vegas Vacation also features one of the most underrated antagonists in the entire franchise with Wallace Shawn's performance as Blackjack dealer who constantly gives it to Clark and sets him on a path of no return, almost losing his family in the process. Oh, and the movie has Wayne Newton playing a creepy and larger than life version of himself as he tries to seduce Ellen away from her husband and children.
2. National Lampoon's Vacation
I bet you thought that I would have National Lampoon's Vacation in the number one spot, and if the movie that is in the top spot didn't exist, it would be the best movie in the franchise. The 1983 classic started it all for Clark Griswold and company, and took audiences on a wild ride through America on the disastrous cross-country journey to Wally World in sunny Southern California only to find it closed for cleaning and repairs.
This movie introduced so many classic characters like Cousin Eddie, "The Girl in the Red Ferrari," Aunt Edna, and gave us our first Clark Griswold meltdown (this time involving John Candy that poor fiberglass moose. And the movie also introduced the concept of Clark's fits of insanity being met with no consequences as Roy Walley (Eddie Bracken) allows the Griswolds and the SWAT team to enjoy the park as his personal guests.
1. National Lampoon's Christmas Vacation
Before I get too far into my long-winded and totally subjective list of reasons why National Lampoon's Christmas Vacation is not only the best movie in the franchise but also the best Christmas film of all time, let me tell you that I truly didn't appreciate the final 30 minutes of this insanely hilarious comedy until I had a family of my own. After trying to wrangle kids, pets, parents, grandparents, and even cousins (I really wish I had a Cousin Eddie) during a holiday celebration, I feel Clark's pain and I completely understand why he went absolutely bonkers.
But seriously, there's no better movie in the franchise than Christmas Vacation. It has the best Cousin Eddie moments ("Shitter's full," "You serious Clark?"), as well as the "hap, hap, happiest Christmas" meltdown you'll see anywhere. My wife and I make it a tradition each year to watch Christmas Vacation before anything else after we put up the tree and decorations. And when I ultimately get in over my head with the stress, anxiety, and tempered expectations of the holiday season, she makes sure to let me know that I'm acting like Clark.
One of the best things about Christmas Vacation that often gets overshadowed by scenes involving the Griswold's yuppie neighbors Margo and Todd is the scene when Clark and Ellen's parents arrive ahead of the holiday. The way everyone stops what they're doing and almost acts like they don't hear the doorbell is the stuff of movie magic. You know things are about to get out of hand each time you hear the bell ring and ring and ring.
Where do you stand on all of this — do you think that Christmas Vacation is the best of the franchise or are you in the camp that thinks European Vacation deserves the top spot? Either way, I now leave it up to you decide in the handy poll you'll find at the bottom of this list. There are no wrong answers, well, unless you think Christmas Vacation 2: Cousin Eddie's Island Adventure. But if that is your favorite, leave me a comment because I would love to pick your brain.
This poll is no longer available.
Philip grew up in Louisiana (not New Orleans) before moving to St. Louis after graduating from Louisiana State University-Shreveport. When he's not writing about movies or television, Philip can be found being chased by his three kids, telling his dogs to stop yelling at the mailman, or yelling about professional wrestling to his wife. If the stars properly align, he will talk about For Love Of The Game being the best baseball movie of all time.
Your Daily Blend of Entertainment News
Thank you for signing up to CinemaBlend. You will receive a verification email shortly.
There was a problem. Please refresh the page and try again.