The 10 Best Road-Trip Movies Ever Made, According To Fans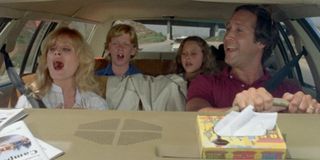 Memorial Day Weekend is almost upon us, which means that plenty of you will be heading out from your homes to recharge your batteries with a brief holiday. To get there you're probably going to have to partake in a road-trip, which is why Fandango have been asking movie-fans what their favorite road-trip movies are. The results are quite surprising, because none other than the 1983 comedy National Lampoon's Vacation came out on top.
Fandango asked over a thousand film fans which road trip films have "inspired them to head out on the highway." But what else joined National Lampoon's Vacation on this list? Well, before you start going insane wondering, just drop your gaze down an inch and check out the 10 Best Road-Trip movies of all time, according to the good folks over at Fandango.
National Lampoon's Vacation
Thelma & Louise
The Blues Brothers
Dumb & Dumber
Smokey & The Bandit
We're The Millers
Road Trip
RV
Planes, Trains & Automobiles
Are We There Yet?
OK, let's look at the films that shouldn't be on the list, the most plainly obvious of which are RV, Are We There Yet? and We're The Millers. Sure each of them have the odd moments of hilarity thanks to the fact that they're led by Robin Williams, Ice Cube and Jason Sudeikis, respectively, but there are at least three more deserving films that should have been included.
None more so than David Lynch's enchanting The Straight Story, which sees Richard Farnsworth's Alvin Straight traveling across Iowa and Wisconsin on a lawn mower to see his ill brother. Meanwhile, Alexander Payne's endearing Nebraska, Dennis Hopper's seminal Easy Rider, as well as Little Miss Sunshine, Zombieland, Y Tu Mama Tambien, Badlands, Five Easy Pieces, Sideways, The Motorcycle Diaries and Mad Max: Fury Road should all feel aggrieved after missing out.
But the American public has spoken, and we have to respect the list they compiled. In fact, other than the aforementioned trio of films I actually don't have a problem with it all at. The original Vacation is heaps of fun, Thelma & Louise is Ridley Scott's most underrated film, while The Blues Brothers, Dumb & Dumber, Smokey & The Bandit, Road Trip and Planes, Trains & Automobiles are all hugely enjoyable to watch unfold, and each possess at least one or two iconic moments of hilarity.
The top 25 (soon it will be all fifty) films that made up Fandango's list can now be viewed on the brand spanking new on-demand video service from the website called FandangoNOW. Fandango have made it even easier for people to find by putting them in a section entitled Road Trip Movies. They're kind like that.
Your Daily Blend of Entertainment News
Thank you for signing up to CinemaBlend. You will receive a verification email shortly.
There was a problem. Please refresh the page and try again.