One Reason Frozen 3 Hasn't Been Discussed Yet, According To One Disney Director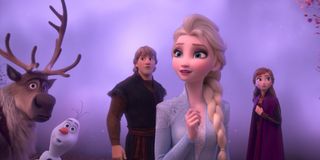 It took six years for Disney to give us Frozen II, which felt like a lifetime for some fans of Anna, Elsa, and the rest of the gang. While it was up for debate whether or not the sequel to Frozen was worth the wait, there's no denying it made an incredible impact at the box office. It's only natural to wonder what will happen next with the series -- but according to one Disney director, the studio hasn't even started to discuss the prospect of Frozen 3.
When Frozen II was released last November, it was, to put it mildly, a rousing success. Fans all over the world packed theaters, fell in love with the soundtrack, and made it clear that the franchise wasn't just a one-hit wonder. Now that the initial excitement has died down, there's obviously speculation as to when we can expect to see the next installment of the series. But when Collider asked Frozen II's Director of Story, Marc Smith, for some intel, he made it clear we'll probably be waiting a while:
That might be a bit disappointing to Arrendale enthusiasts, but it honestly makes sense. If there was a lot of pressure to follow up Frozen's success, then there must be even more to make sure a third chapter could match Frozen II's billion dollar box office run. There's also the risk of oversaturating fans by releasing another movie too quickly. After COVID-19 hit in early 2020, Disney+ did parents a solid (sort of) and made Frozen II available for streaming early. While that offered some assistance in the "keeping kids occupied during quarantine" department, it's safe to say some parents might be ready to take a break from "Into The Unknown"-ing.
Marc Smith isn't the only member of the Frozen team that's hinted it's going to take them a while to figure out next steps. Josh Gad has gone on record saying he's not totally on board with the idea of doing an Olaf spin-off, despite widespread speculation that one was coming. He's also said Frozen 2 only happened because there was a reason for it to exist, and he thinks the same should be true if Frozen 3 is going to become a reality.
Even if we do have to wait a long time for Frozen 3, fans of the franchise aren't going to be totally deprived. Though we may not get that full-fledged Olaf spin-off, Disney has released a series of short films starring the lovable snowman, and it stands to reason they may offer more original content as time goes on, too.
Are you already ready for another Frozen movie? Let us know in the comments!
Your Daily Blend of Entertainment News