How The Princess And The Frog Actress Feels About Splash Mountain's Big Rebranding At Disneyland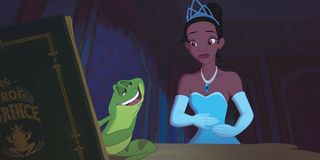 After people started a petition online asking for Disneyland and Disney World's Splash Mountain to be rebranded from Song of the South to The Princess and the Frog, Disney answered fairly quickly, agreeing to do just that. Now, actress Anika Noni Rose is expressing her thoughts on the rebranding.
Anika Noni Rose, who played Tiana in the 2009 animated movie The Princess and the Frog which featured Disney's first Black princess, spoke a bit about Splash Mountain's theme change. Here's what she said during a clip aired on Good Morning America:
This isn't the first time The Princess and the Frog's Anika Noni Rose has spoken out on a controversial topic. Back in 2018, the actress approached Disney about Ralph Breaks the Internet's depiction of Tiana, noting that they lightened her skin color and sharpened her nose. Disney ultimately agreed and promised to adjust her appearance for the movie.
Splash Mountain has a complicated history at Disneyland that goes back to the 1980s. At the time, Disney needed to update Bear Country and decided to do it with characters from Song of the South. It was originally called Zip-a-Dee River Run, but CEO Michael Eisner changed it to Splash Mountain to match other attractions like Space Mountain.
While Splash Mountain doesn't include the most controversial character from Song of the South -- Uncle Remus -- and focuses on animal characters like Brer Rabbit, Brer Fox, and Brer Bear, it's still tied to the movie all the same.
Song of the South first released in 1946 and has seen a lot of controversy since then. At the time, it received high acclaim, winning an Oscar for Best Original Song. Actor James Baskett also won an honorary Oscar for his portrayal as Uncle Remus. But in the decades that have followed, contemporary audiences have frequently called out the film for perpetuating racial stereotypes.
Due to this controversy, it hasn't been released on VHS or DVD. And when it was announced that Disney+ would house the studios' entire library, then-CEO Bob Iger had to clarify that the company would not be releasing Song of the South, calling the film "fairly offensive."
With an attraction as popular as Splash Mountain, it's no surprise that Disney fans have strong opinions about the rebranding idea. Some think it's an over-reaction, while others are demanding it happen right away. And some people are sure to still have ideas about what it could have been rebranded to. But with plans already underway for the updated attraction, those ideas are now moot. And despite some of the negativity, the response to a The Princess and the Frog ride replacing Splash Mountain has been mostly positive.
Your Daily Blend of Entertainment News