Artemis Fowl And 9 Other YA Franchises That Stumbled Out Of The Gate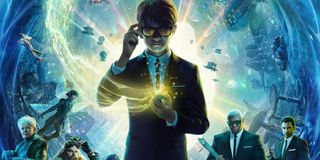 Since the days of the monolithic success of Warner Bros' Harry Potter franchise, studios have chased after what they think will be the next YA success story. Sometimes that quest pans out, with the Twilight films, The Hunger Games franchise and three quarters of the Divergent saga all being fine examples of the examples that worked. And yet, there are countless others, like the most recently savaged Disney+ release Artemis Fowl, that have tripped over their feet from the moment they debuted on the scene.
It's not going to be pretty, but the 10 YA franchises we're about to invoke all stumbled out of the gate, never to achieve those lofty heights that so few have achieved. In some cases, redemption would eventually be had, but in most cases, the expectations severely outweighed the reality. With that in mind, let's start with the most recent entry into this class of misfits.
Artemis Fowl (2020)
Estimated Worldwide Grosses/Budget: Not Available/$125 Million
RT Score: 9%
# Of Books Unadapted: 6
With director Kenneth Branagh's Artemis Fowl pulling from the first two books in the series for inspiration, there's a possibility that the six books remaining in author Eoin Colfer's tales of folklore and thievery will never see their way to the big screen. Between this first film landing with a disastrous thud and being moved into a less than confident streaming debut slot after two theatrical delays, the coffin feels all but nailed shut for the Fowl family legacy. And to think, it was a franchise almost two decades in the making.
Eragon (2006)
Estimated Worldwide Grosses/Budget: $250.4 Million/$100 Million
RT Score: 16%
# Of Books Unadapted: 3
Magic, dragons and the children who wield them would seem like a surefire formula for success in 2006, wouldn't it? It's practically what elevated author Christopher Paolini's Inheritance Cycle to literary fame, which in turn made it a hot property for cinematic adaptation. But somehow the resulting film, which included a cast that boasted Jeremy Irons, John Malcovich and Rachel Weisz, couldn't find a strong enough wind to carry it through the remaining three stories in the canon. Though at the very least, the results of Eragon's theatrical run seems modestly successful on paper.
The Seeker: The Dark Is Rising (2007)
Estimated Worldwide Grosses/Budget: $31.4 Million/$45 Million
RT Score: 14%
# Of Books Unadapted: 4
In a move that almost felt like the series was calling itself out from the start, Susan Cooper's The Dark Is Rising Sequence found its way to theaters with 2007's The Seeker: The Dark is Rising; a film that skipped straight to the second story in its five novel sequence. Rewritten into a more contemporary, looser adaptation of Cooper's novels, the conversion of series lead Will Stanton (Alexander Ludwig) into an American protagonist probably did more harm than good in trying to turn this magically-driven series into a hit with audiences. It is also one of the few films in this list to fall below its budgetary spending when released to worldwide audiences.
The Golden Compass (2007)
Estimated Worldwide Grosses/Budget: $372.2 Million/$180 Million
RT Score: 42%
# Of Books Unadapted: 2
While New Line Cinema was chasing its parent company's Potter-backed success with writer/director Chris Weitz's The Golden Compass, it was also trying to replicate the results of another landmark film series: Peter Jackson's The Lord of the Rings trilogy. Going as far as casting Christopher Lee and Ian McKellen in the film's cavalcade of characters, as well as directly invoking that very franchise in the initial phases of marketing, the watered down adaptation of author Phillip Pullman's controversial YA saga annoyed fans of the books to the point where the modest box office results didn't seem to signal a continued rally. It would be another 12 years before Pullman's series would be seen again, this time as the BBC/HBO series His Dark Materials.
Cirque Du Freak: The Vampire's Assistant (2009)
Estimated Worldwide Grosses/Budget: $39.2 Million/$40 Million
RT Score: 38%
# Of Books Unadapted: 10
While Darren Shan's 12 book series The Saga of Darren Shan was the basis for Cirque du Freak: The Vampire's Assistant, it looks like the first two books were used as the inspiration for co-writer/director Paul Weitz's would-be YA barnburner. Unfortunately, with some A+ casting bringing John C. Reilly, Ken Watanabe, Salma Hayek and YA franchise veteran Josh Hutcherson into the mix, this modestly budgeted series wasn't enough of a draw to get kids into theaters. Even with a much smaller scale of play than Paul's brother Chris had to work with on The Golden Compass, this story of a rather odd traveling circus, and the creepy goings on that follow it, couldn't clear the bar to further installments.
Beautiful Creatures (2013)
Estimated Worldwide Grosses/Budget: $60.1 Million/$60 Million
RT Score: 47%
# Of Books Unadapted: 3
In theory, the Caster Chronicles series of books, written by authors Kami Garcia & Margaret Stohl, had the exact blueprint that a film like Beautiful Creatures was looking for. With magical elements similar to Harry Potter, mixed with the teenage angst and romance of a Twilight-sort of series, you'd think that 2013 would have been kind to this film starring a pre-Solo Alden Ehrenreich, Viola Davis, Jeremy Irons and Emma Thompson. Unfortunately, someone read their spell book incorrectly and cast a film that barely recouped its budget, with an actual profit nowhere to be seen. At least the damage was minimal, as there were only three other books that found themselves unadapted when the dust settled.
The Mortal Instruments: City of Bones (2013)
Estimated Worldwide Grosses/Budget: $95.3 Million/$60 Million
RT Score: 14%
# Of Books Unadapted: 5
Much like His Dark Materials, The Mortal Instruments: City of Bones is a series that wouldn't take too long to find its wings, as almost a year after the Lily Collins-starring YA adaptation would flop into theaters, Cassandra Claire's book series would find itself becoming a cable TV series. Though it didn't look like this world of angels and demons would be so short lived in its theatrical context, as the second book, City of Ashes, was announced as actually going into production not too long after the first movie was slated to open. But once that opening weekend landed softer than most would have liked, not even enticing Sigourney Weaver into a potential role in that sequel could keep this idea on the tracks.
The 5th Wave (2016)
Estimated Worldwide Grosses/Budget: $109.9 Million/$54 Million
RT Score: 15%
# Of Books Unadapted: 2
How The 5th Wave never saw even one sequel go into production is something that makes even the greatest skeptic scratch their head. Rick Yancey's YA trilogy about a young girl named Cassie (Chloe Grace Moretz) and her romantic entanglements in a time of alien invasion actually ranks as one of the more successful entries into this graveyard of literary fads. Taking into account that it was also a January release, there was potential for The 5th Wave to continue using this traditionally sparse period of theatrical action as a path to greater success. Alas, that fate was never meant to be, as critics panned the film, and it felt like fans of the novels were content with sticking to the books they fell in love with.
The Darkest Minds (2018)
Estimated Worldwide Grosses/Budget: $41.1 Million/$34 Million
RT Score: 16%
# Of Books Unadapted: 3
Sometimes, even the most inventive gimmicks can't find their way to YA adaptation glory. But in the case of author Alexandra Bracken's The Darkest Minds series, it was apparently the lack of a gimmick that stymied the chances of getting all four books adapted. Stalling out in the first frame, the Amandla Stenberg-starring film barely made a dent with its story of teenagers with strange powers fighting a system that wanted to exterminate them. Making for the second film on this list to contain a Hunger Games actor in a series that couldn't match up to that particular experience, there was very little to convince audiences to make the trip out.
Mortal Engines (2018)
Estimated Worldwide Grosses/Budget: $83.7 Million/$150 Million
RT Score: 27%
# Of Books Unadapted: 3
Perhaps one of the most painful failures to see in action was that time when director Christian Rivers' Mortal Engines lost at least $100 million at the box office, cancelling any hopes that the remaining three books of Phillip Reeve's universe of major cities on wheels. Another victim of the burden of expectations that come with Peter Jackson's name and legacy being associated with its production, there wasn't a chance in hell that a film that grossed only $16 million in North America was going to keep these particular engines lit. Though as we've seen with both The Mortal Instruments and His Dark Materials, there's always a potential future in TV, if one plays their cards right.
While Artemis Fowl is the latest poster child for a YA franchise that overshot to a spectacular end, it's far from the only movie to join this particular club of misfires. And it surely won't be the last, as studios are still pursuing the next literary trend that could turn into a potential hit at the box office. Someday we'll probably see the next Twilight or Harry Potter take hold at the movies; but until then, we'll at least have some interesting failures to talk about in the meantime. Don't let that stop you from watching Artemis Fowl, as it's currently showing on Disney+, and you could use something to kill the time before Hamilton finally drops.
CinemaBlend's James Bond (expert). Also versed in Large Scale Aggressors, time travel, and Guillermo del Toro. He fights for The User.
Your Daily Blend of Entertainment News
Thank you for signing up to CinemaBlend. You will receive a verification email shortly.
There was a problem. Please refresh the page and try again.