Why His Dark Materials Filmed Season 2 Before Season 1's Premiere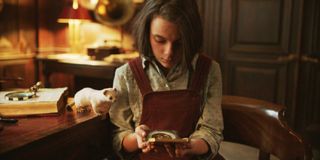 When HBO, in partnership with BBC, announced the company was going to adapt Philip Pullman's His Dark Materials book trilogy to television, there was a lot of excitement. While shows don't usually film a second season despite a renewal, there's a very good reason why His Dark Materials filmed Season 2 ahead of Season 1's premiere.
The first season of the upcoming HBO fantasy drama will follow the events of the first book in Philip Pullman's series, The Golden Compass. In the book, Lyra (Dafne Keen) is a preteen who ventures through different worlds in search of a mysterious material called Dust. While in another world, she meets Will (Amir Wilson) and together they must also uncover why children are being kidnapped.
Because the second book, The Subtle Knife, picks up soon after the first book, His Dark Materials producer Jane Tranter wanted to stay true to the books' timeline and got HBO to approve a 16-episode order. That meant filming the second season ahead of the first season's premiere to prevent Dafne Keen, who made her big screen debut in 2017's Logan, from surpassing the age of her character.
Jane Tranter continued, revealing to Deadline that she would make that decision again despite the crazy schedule. Although she may have made one choice differently insofar as a vacation goes...
Thankfully, Lyra's age won't be as much of an issue for a third season, which hasn't been confirmed yet. However, if all goes well, Season 3 will follow the events of the third book in the series, titled The Amber Spyglass. In the final book, Lyra is 16 years old and not 12, so Dafne Keen's age should continue to line up with that of her character.
His Dark Materials also stars James McAvoy, Lin-Manuel Miranda, and Ruth Wilson and it debuted its first trailer back in February. Without having watched a single episode, the TV adaptation already looks far better and more accurate than The Golden Compass movie, which starred Nicole Kidman and was largely panned by critics.
His Dark Materials Season 1 consists of eight episodes and makes its splashy debut on Monday, November 4 at 10 p.m. ET on HBO. For more on what's coming to TV this fall, be sure to check out our complete guide to every new and returning show through the end of November.
Your Daily Blend of Entertainment News
Thank you for signing up to CinemaBlend. You will receive a verification email shortly.
There was a problem. Please refresh the page and try again.