Netflix's Fatal Affair Trailer Has Nia Long Nodding At '80s Classic Fatal Attraction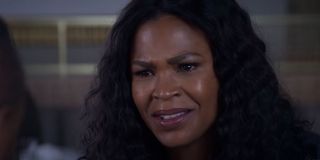 Back in 1987, Glenn Close memorably for playing an unhinged lover in Adrian Lyne's Fatal Attraction, which even landed her an Academy Awards nod. For a while this sort of psychological thriller became a big screen mainstay, but it's been quite a while since we've seen an affair turn so torrid. Enter Fatal Affair, Netflix's attempt at jumping into the drama, this time starring (and being produced by) Nia Long.
In some ways Fatal Affair seems like a bit of a remake of Fatal Attraction, only in this version Nia Long is the partner who is wanting to cheat and ends up hooking up with a man who is much more unstable than she realized. (In Fatal Attraction, Michael Douglas is bored and is tempted into cheating on his perfectly nice wife, after which his new mistress grows more and more desperate to keep him in her fold.) You can see the full trailer below.
Like Fatal Attraction's Dan Gallagher, Fatal Affair's Nia Long's Ellie is a lawyer. Similarly, she doesn't have a bad marriage, but time has ebbed and flowed and she and her husband, played by Stephen Bishop, aren't as close anymore. So, when she meets an old acquaintance, Omar Epps' David, he seems like a new and intriguing possibility. At least in the short term.
Honestly, I'm most interested to see how the new movie Fatal Affair chooses to end. One of the highlights of the original Fatal Attraction is the way the final moment plays out. (At least for me, as Glenn Close reportedly isn't a fan of the movie's ending.) I won't give you any spoilers in case somehow you've missed the '80s flick, but to me the ending of the 1987 movie is really satisfying, but gender-swapping the characters almost necessitates a new type of ending for Netflix's thriller to play out nearly as well. Perhaps this time around the Netflix movie will go with an ending similar to the one Fatal Attraction was expected to have before it ultimately swapped its premise for the theatrical version.
However the flick plays out, it doesn't look to be a straight remake of the '80s thriller, but I can say I'm pretty happy with Netflix dipping its toes more and more into genre movies as it builds up its original programming slate. Psychological thrillers used to be a movie theater staple. While they are still around a fair amount -- see the upcoming: The Woman in the Window -- there's certainly room for more in the genre.
From the trailer we can see Nia Long fighting off Omar Epps' character in her home before attempting to communicate with the police. David is standing outside of her as she screams in the car, calmly staring at her. It's all very intense and creepy and luckily we won't have too much longer to wait to see how it all plays out. Fatal Affair will be officially hitting Netflix starting on July 16. While we wait for that release, you can see what else is coming in July with our full rundown.
Your Daily Blend of Entertainment News
Reality TV fan with a pinch of Disney fairy dust thrown in. Theme park junkie. If you've created a rom-com I've probably watched it.