Kevin Smith Adds Fuel To The Fire Regarding Bad Blood On Joss Whedon's Justice League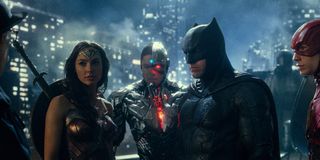 We are at a point where it feels like there's never not going to be some kind of drama surrounding Justice League. As we move into a new era in which the Snyder Cut is actually a thing that's going to happen, the attention has shifted back to Joss Whedon's involvement in the film. Now, some key Hollywood figures, including Kevin Smith, are weighing in about the rumors surrounding a toxic environment on his set.
There have long been rumors about what went down, both on set and in the editing room, after Joss Whedon took the reins on Justice League following Zack Snyder's departure. Some said he was instructed to basically redo the movie in its entirety. While the cast was mostly quiet about what actually happened on set, some cast members, like Ray Fisher, have been vocal about the fact that they weren't pleased with the theatrical cut of Justice League.
Recently, Ray Fisher has spoken up in more depth about his time on the Justice League set -- and the man behind Cyborg has not had great things to say. Last week, he retracted an earlier statement about Joss Whedon being a "great guy" and then tweeted that the director's behavior on set was "gross" and "abusive." Now, Kevin Smith has spoken up on his FatMan Beyond show to give credence to Ray Fisher's claims:
Though it's important to remember this is hearsay, the anecdote that Kevin Smith shared definitely offers more insights into Ray Fisher's perspective. The truth is that no one, except the people that were involved directly, can ever really know exactly what went down -- but at this point, it's clear that Justice League wasn't really a great experience for a lot of people.
It will be interesting to see whether or not more people start to speak up in the coming days and weeks - either to corroborate Ray Fisher's claims, or to speak in defense of Joss Whedon, as Alan Tudyk has. The director himself has yet to make a statement regarding the allegations.
Despite the negative feelings that some of Justice League seem to hold, there are a few silver linings: Zack Snyder and co. seem excited to share the Snyder Cut with fans next year, and there's now some buzz around Cyborg getting his own, Joss Whedon-free DCEU film.
Your Daily Blend of Entertainment News